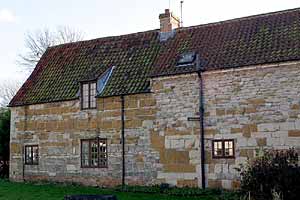 Aslockton
Holy Trinity
Nottingham Archdeaconry
East Bingham Deanery
Introduction
The earliest mention of the chapel was in 1147 when there was a dispute over the relationship between it and the church at Whatton. The pope ruled that the chapel was to be tied to Whatton church which led to the chapel being dominated by the church's patrons, the Praemonstratension monks of Welbeck Abbey, until the Dissolution.
In 1547 Holy Trinity chapel and Whatton church were granted by King Edward VI to Thomas Cramner (a native of Aslockton). Ownership of the chapel passed through the family until the 1570s when it was regranted to two London gentlemen. By this time it had been converted into a cottage.
Particular thanks to Tim Southall and Robert James for research
and Robert James and Jane and Bill Paulson for the photographs
Work has been done on this entry but some pages are incomplete. If you can add information to help complete the entry, please contact our Administrator.