Austerfield St Helena
Features and Fittings
Chancel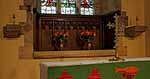 The oak reredos was a gift from the Rev T T Taylor and was installed during the restoration of 1897-8.
Nave

The font has a tapered cylindrical bowl on a 19th century pedestal. It was recovered from a farmyard in the late 19th century where it was being used as a trough.
North Aisle
Vestry
A plaque in the vestry records the visit of the Society of Mayflower Descendents to Austerfield in 1955.
ST. HELENA'S CHURCH, AUSTERFIELD, YORKSHIRE, ENGLAND, WHERE WILLIAM BRADFORD
WAS BAPTIZED IN 1589. HE BECAME A SEPARATIST PILGRIM FATHER, AND WAS SECOND
GOVERNOR, AND HISTORIAN, OF PLYMOUTH IN NEW ENGLAND.
THE GENERAL SOCIETY OF MAYFLOWER DESCENDANTS (U.S.A., 1897)
WALDO MORGAN ALLEN, GOVERNOR GENERAL
ON THEIR FIRST PILGRIMAGE – 152, BY PLANES – TO THE NETHERLANDS AND ENGLAND
SEPTEMBER 22 – OCTOBER 6, 1955
335 YEARS AFTER THE SAILING OF THE MAYFLOWER