Barnby-in-the-Willows
All Saints
Glass
There is no stained glass in the church.
The diagonally buttressed 15th century single stage tower has a single arched 2 light window with tracery to the west with four two-light arched openings to the bell chamber. There is a single small rectangular window to the west side with two to the south.
The west side of the north aisle has a lancet window.
The aisle window to the west of the porch is arched with two lights, tracery and hoodmould. To the east is a two-light, square headed, traceried window with hood mould and label stops. The clerestory has three square-headed windows.

Windows in the
north wall of
the chancel
The chancel, has a tall two-light arched transom and mullion window with tracery and stops at either end of the transom
East of the door is a lozenge shaped window containing a quatrefoil with tracery and to its east a two-light arched and traceried window with quatrefoil.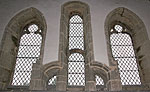 East window
The east end, with three tie plates, has a triple lancet window. The centre narrower, taller lancet, with arched transom has at its foot, on either side, a segment of a circle. The flanking lancets each have single lights with tracery. The south wall of the chancel corresponds to the north.
The door however has neither hood mould nor label stops and the easternmost window does not have a quatrefoil, but four small circles contained in a larger circle.
The arched and traceried east-facing window of the south aisle is probably 17th century and has two lights with cusping. The aisle windows to the east and west of the gabled, projecting porch are both traceried with 2 lights, square heads and hood moulds, that to the west has label stops.
The central doorway of the porch is arched with imposts, hood mould and label stops and is flanked by single lancets.
The clerestory corresponds to the north. The west wall of the south aisle has a single lancet.