Barton-in-Fabis
St George
Features and Fittings
There is an oak-topped desk lectern, said to be made using wood from the former rood loft, on a wrought-iron stand.
Mounted on the south wall of the chancel is a glass-fronted case with:

a Book of Music, dated 1839, signed by John Barrow [died 1888], schoolmaster;
a photograph, presumed to be Richard Barrow, gamekeeper, his son;
a wooden truncheon, possible the property of the gamekeeper;
a boxwood clarinet;
notes about the above made by the Rector 1960-1964, Revd Arnold Hill.

The chancel,
showing the altar
The stone altar table has marble legs; with a brass cross and 2 candleholders.
There are wooden altar rails with wrought-iron work.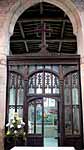 There is a decorated screen.

A Jacobean pulpit in the north east corner of the nave has six more modern panels, carved with flowers; one of these dated 1901 carries the inscription "I AM THE ROSE OF SHARON".
There are two reading desks each with a large carved wood chair.

The octagonal font, a shape used widely used from the late 13th century, stands in the south aisle near the doorway. It is cut out of three large blocks of stone. The bowl is lined with lead. There is a wooden cover on it.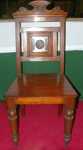 A memorial bride's chair, possibly made of rosewood, is dedicated to the memory of Ruth Sherman 1914-1985.