Barton-in-Fabis St George
Glass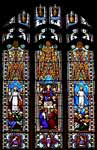 The east window in the chancel, of three lights, has a pointed-segment arch enclosing tracery of simple design, with a semi-circle over each light. The point of each ogee is continued upward as a perpendicular bar to the enclosing arch – Perpendicular style, with stained glass. The three main panels show the Transfiguration; the Last Supper, with the letters ihs below; and the Ascension, each under a gold-coloured canopy.
There are two windows on either side of the chancel, each of two lights with cusped ogee tracery enclosed within square heads. Torre MSS records that three of these used to have heraldic shields in them.
On the south side of the chancel, there is also a low-silled two-light window.
In the nave, there are six clerestory windows of three lights each on the south side; three windows to the north of two lights each with square frames and ogee heads.

The east window of the south aisle has no tracery. There is some stained glass in parts: in the middle of each segment (12 in all) there is an angel expressing devotion; the centre segment contains the Agnus Dei.

The light in the west wall of the ground floor of the tower contains some fragments of mediaeval glass. There are twelve pieces [Truman says eleven] in yellow stain and matt on white. From the top of the light down, it is possible to identify:
1.Tracery head [late Decorated period] –two oak leaves surrounded with a running border of wave pattern to accompany acorn quarries of the trailing type.
The rest is from the Perpendicular period.
2.Two pieces of vine leaf.
3.Capital letters OR or MR. [OR or MR].
4.A vesica, design partly gone, but showing a resplendent sun motif.
5.A roundel, design gone.
6.Two border pieces – each is a fleur-de-lys [one partly gone] within a vesica.
There are four small pieces entirely gone.