Barton-in-Fabis
St George
War Memorial
There is a stone cross some 12 feet tall adjacent to the south porch. This sits on an octagonal base, on four faces of which is recorded:
JAMES ADAMS
FRED ATKINSON
THOS BROGDALE
ARTHUR NORTH

1914-1918
Remember

JESU MERCY

HARRY PEPPER
ALBERT PRIESTLEY
JOHN TOWERS

1939-1945
JOHN THOMAS
PRIESTLEY RN
DEC 19

TH

1941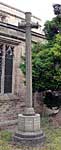 The War Memorial
One of the bells in the tower is in memory of the 7 First World War deaths.
In the churchyard, north side, a family grave marker records the death of Captain Thomas Stanley RFC, killed in action, August 17th 1917.