Bilsthorpe St Margaret
Churchyard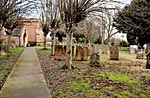 Churchyard from
south-west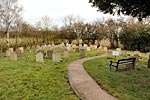 The 1902 extension
churchyard
The churchyard stands to the east of the former manor house, later a farmhouse and now just a residence.
The churchyard surrounds the church, but is narrow on the northern side. The boundary wall on the southern side, facing the original parsonage house, is 19th century and presumably a product of the 1873 restoration. It is of dressed stone with half-round stone coping. Steps down to the parsonage have chamfered flanks and a pair of round headed chamfered gate piers. There is also a flight of stone steps to the west, providing access for those arriving on foot. The wall is about 175 metres long.
The extension churchyard, to the west of the parsonage, was opened and consecrated in June 1902. In 1938 the bodies of Lord Savile and his mother were transferred there from the church. Also there is a mass grave of 14 workmen, sinkers working on the development of Bilsthorpe colliery in March 1927, who were killed in an accident when the 'cage' carrying the men down the shaft crashed to the bottom.