Bilsthorpe
St Margaret
Glass
Click the numbers in the key plan for details of the windows.
1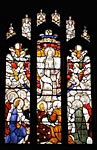 The east window is of three lights and depicts Christ's Ascension, with eleven apostles and attendant angels. Robert Edis, the architect of the Savile Chapel, designed the window which was installed by Clayton and Bell in 1891 and replaced the debased Perpendicular predecessor which had been reset very low, probably in 1663. At its base it bears a further dedication to Amy Savile, who is remembered in the Savile Chapel and on the window at the base of the tower. It is as follows:
In most affectionate remembrance of Amy the beloved wife of Henry Savile Esq of Rufford Abbey
who entered into rest November xxi mdccclxxviii [1878] Jesu mercy.
2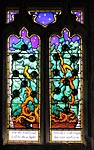 The two-light square-headed window with ogee heads in the south wall of the chancel depicts the Tree of Knowledge and the Tree of Life. To the left of the window is a plaque stating:
Stained Glass Window given in memory of Wendi Jane Vickers
31st October 1968 – 11th April 1994
A plaque to the right of the window explains:
About the window
The window depicts The Tree of Knowledge of Good & Evil and
The Tree of Life – both trees are mentioned in the book of Genesis
The Tree of Life is also in the Book of Revelation
On either side of the river is the tree of life with its twelve kinds of fruit, producing
Its fruit each month, and the leaves of the tree are for the healing of the nations
Revelation 22.2b
4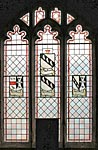 In the Savile Chapel. A three light window. The left light carries the arms of Lumley and the inscription:
Rev Fred Savile Lumley BA late Rector
of this Parish m Mary d of R Jenkins Esq
died at Nice 24 June 1859 in his 40th year
The centre upper light carries the arms of Savile and the inscription:
John Savile 1st Baron Savile PC
GCB HM Ambassador at Rome
died 28th November 1896
The centre lower light also carries the arms of Savile:
Augustus W Savile Capn 2nd Life Guards
Her Majesty's Master of Ceremonies
died 13th April 1887 in his 58th year
The right light also with the Savile arms:
Henry Savile Captn 2nd Life Guards m. Amy
d. of R Jenkins Esq Relict of Colonel
Mountjoy Martyn
died 28th August 1881 in his 61st year
5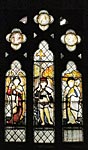 The tower vestry has a three light window by Kempe of London, installed on the 8th of December, 1880, the feast of the Conception of Mary, and depicts the three archangels with St Raphaelis to the south, St Michaelis in the centre and St Gabrielis in the northern frame. At the base of the latter is the dedication:
In the reverence of God and in affectionate remembrance of Amy,
wife of Henry Savile Esq of Rufford Abbey her friends have dedicated this window AD 1880.