Bilsthorpe
St Margaret
Monuments and Memorials
Tower
William Chappell
In 1820 Stretton recorded the presence of only one monument in the church, standing against the north wall at the base of the tower, and this monument remains but is now on the south wall of the tower vestry. It is in the form of a lengthy Latin inscription to the memory of William Chappell, the seventeenth century Irish bishop buried beneath the floor of the church.

Non ego sed gratia Dei meum
Gulielmus Chappel
Natus Laxtoniae in Nottingham A.D. MDLXXXII.
Mansfieldia bonis literis initiatus, Collegij Christi
Cantabrigiae per 27 annus socius;Collegij S.S. Trinitatis,
Dublin Praepositus;Ecclesiae Metropolit: Cassel:
Decanus Corcagiensis & Rossensis Episcopus, &c.
Charismata, quae, (si qui alius) plurima atque eximia
a Domino Acceperat,singulari tum fide, tum
BonFelicitate, ad ejus gloriam, publicumque Ecclesiae
Commodum Administravit; Sapientiae, Justitae,
Gratiae Divinae Strenuus Assertor; Charitate in
Deum atque homines, Amicos atque Inimicos, ad Christi
Legem et Exemplum, factus nobis Exemplum & lex.
Bona Temporalia partim pro Christo, Partim
Christo Reliquit. Mundum latere ut maximè Semper
voluit, ita minimè unquam Potuit, aut poterit.
Annum agens 67, placide spiritum suum Servatori
reddidit die Pentecostes MDCXLIX, atque hic
juxta venerandam Parentem suam positus, dominum
Jesum, quo fruitur, expectat.
Fratrem habuerat natu minorem, (dum in terris
agebat) Johannem Chappel, Theologum pariter
insignissimum, et Pulpitus natum; sed in caelos
Prae migraverat; et conduntur illius exuviae
in ecclesia de Mansfield Woodhouse.
Posuit Richardus Stern Archiepisc. Eborac:
A translation follows:
William Chappel born at Laxton in Nottinghamshire, AD 1582, initiated in learning at Mansfield, for 27 years a Fellow of Christ-College, Cambridge. Provost of the College of the holy and undivided Trinity at Dublin: Dean of the Metropolitical Church of Cashel. Bishop of Cork and Ross, etc. The excellent Graces, which (if any other did) he received in a plentiful measure from God, he administered with a singular fidelity and success, to his glory and to the public emolument of the Church. He was a strenuous assertor of justice, wisdom, and Divine Grace; by his love to God and charity to Men, as well friends as enemies, according to the Law and Example of Christ, he became to us, both an example and law. He gave up his temporal goods, partly for Christ, partly to Christ. As to be his from the world was always his greatest desire, so, he never was able to compass it, nor can he now.
In his 67th year he calmly surrendered his soul to his Saviour, on Whit Sunday, 1649. And is here deposited near his venerable mother, expecting our Lord Christ, whom he enjoys. He had a younger brother (while he lived) named John Chappel; who was also a very eminent Divine, and born for the pulpit: But he went to Heaven before him; and his remains are buried in the church of Mansfield Woodhouse.
[Inscription] placed by Richard Sterne, Archbishop of York.
There are other monumental inscriptions on the walls of the tower vestry.
North Wall
There are four tablets on the north wall.
Henry Gordon

SACRED
TO THE MEMORY OF
HENRY GORDON A.M.
UPWARDS OF 16 YEARS
RECTOR OF THIS PARISH
WHO DEPARTED THIS LIFE
JANUARY THE 7TH A.D. 1839;
AGED 44 YEARS.
HE DIED RERSPECTED AND BELOVED

ALSO IN MEMORY OF ELEANOR MILES,
HIS NIECE, A DAUGHTER OF
WILLIAM & KATHERINE MILES,
OF KINGSWESTON IN THE COUNTY OF
GLOUCESTER.
WHO DIED ON THE 26TH OF APRIL, A.D. 1828,
AGED 19 MONTHS.
Frederick Savile Lumley
Below this is the following:

SACRED
to the Memory of
The Rev

d

FREDERICK SAVILE LUMLEY B.A.
late Rector of this Parish,
who died, after long and patient suffering
at NICE, the 24

th

of June 1859,
in the 40

th

Year of his Age.
----- . -----
In testimony
of unfading affection for
a beloved Husband and a fond Father,
This Tablet is erected by his afflicted Widow
----- . -----
"The Lord gave, and the Lord hath taken away,
Blessed be the Name of the Lord"
William Werge
To the upper right:

IN MEMORY OF
WILLIAM WERGE
(THIRD SON OF THE ABOVE
EDWARDS WERGE)
LIEUT

T

IN H.M. 24

TH

REGT
WHO DIED DECEMBER 4

TH

1857
AGED 37

"BLESSED ARE THE DEAD WHICH DIE IN THE LORD"
Edwards Werge
Now below, following an earlier re-arrangement, is the following lengthy tablet: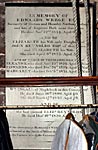 IN MEMORY OF
EDWARDS WERGE ESQR
Formerly of Horton and Hauxley, Northumberland,
and late of Hexgreave Park near this Place.
He died Nov

r

22nd 1854. Aged 60.

AND OF
ELIZABETH his Wife, only Daughter of
JOHN REYNOLDS ESQ

R

of this Place
and ELIZABETH his Wife. She died 6th April 1825. Aged 37.

AND OF THREE OF THEIR CHILDREN, vid

t


ELEANOR, who died Nov

r

25

th

1829, Aged 11 Years
EDWARDS, who died Dec

r

29

th

1829, Aged 14 Years
MARGARET, who died Feb

y

6

th

1831, Aged 14 Years

ALSO IN MEMORY OF
The above named JOHN REYNOLDS ESQ

R

and
of ELIZABETH his Wife, the only Daughter of WM INGALL of Maplebeck in this County ESQ

R

.
He died June 10

th

1800. Aged 46 She died March 17

th

1832, Aged 76
AND OF WM INGALL of this Place ESQR Brother of
the last named ELIZ

R

REYNOLDS.
He died Dec

r

16

th

1820. Aged 67.

All the above (except MARGARET WERGE, who died at Bath and
is buried in the Parish of Walcot there) are interred in Vaults
on the Eastern side of the Cemetery adjoining to this Church.
Savile Chapel
Augustus William Savile
On the eastern wall of the Savile Chapel, an ornate monument, bearing a preserved wreath carries an inscribed brass with the following inscription: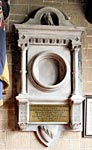 This wreath was sent by her Most Gracious Majesty
Queen Victoria
On the occasion of the Funeral at Bilsthorpe of the late
Augustus William Savile Esq

re


Of Rufford Abbey, Ollerton, Notts.
her Majesty's Assistant Master of Ceremonies
who died at Cannes aged 58
on the 13

th

of April 1887.
Nave Floor
In the central aisle of the nave, immediately in front of the chancel step, is the only known gravestone within the building. It carries a design of a crudely carved Calvary cross, but no inscription, and has been dated to the 14th century. It is not now visible, as it lies beneath a floor covering.