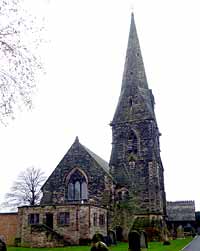 Bramcote
St Michael and All Angels
Nottingham Archdeaconry
Nottingham South Deanery
Introduction
A small chapel existed here in 1246. A stone church (of which only the tower survives) was built in the 14th century. It was abandoned in 1861 and the nave and chancel and south porch demolished in 1862.
A new church was built in 1861 by the London architect John Johnson, on a different site in Bramcote village. It was consecrated on 12 December 1861.
St Michael and All Angels' was reordered in 2012 and now has a light, usable interior.