Car Colston St Mary
Features and Fittings
Chancel
East end of the church,
showing the altar
and communion rail
Detail of the carving
on the altar
Altar
Said to be an Elizabethan table, but the columnar turned legs with square section stretchers suggest it could be of a later date, possibly Jacobean of 1620-40.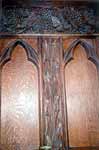 Detail of the carving
on the reredos
Reredos
Carved by a daughter of Canon Miles of Bingham in 1883, decorated with fruits and corn sheaves.
Cross
A brass bottonée altar cross with enamel jewels in the crockets. A twisted stem with knot, rising from conical foot, supports the cross.
Containers
Two brass thistle-shaped containers.
Candlesticks
Two brass candlesticks with indented drip pans and cylindrical stems with large central knot.
Candle extinguisher
Brass cone-shaped extinguisher with rolled edge.
Prie deux
Two wood prie deux.
Stalls
Two single-seat stalls with poppy heads.
Credence table
The trestles decorated with quatrefoil openings.
Bier lights
Three iron bier lights, two with shallow drip pans, one with scalloped drip pan, all with twisted stems, single knot and tripartite splayed feet.
Aumbry
Aumbry space, but no door.
Piscina
Has a nodding ogee arch, three carved faces, but all parts seem disparate and not conceived and executed at same time.
The sedilia on the south
wall near the main altar
Detail on the sedilia -
a carved sheep's head
Sedilia
Three sedilia, heavily crocketed and finialed with a number of small carved faces.
Altar rails
Dating from 1732, presented by Anna Sherrard, a granddaughter of Robert
Laudian with single pillar-turned balusters set between pairs of spiral-turned balusters.
Semi-circular gates matching semi-circular chancel step.
Choir stalls
Two to the north, ditto to south, with poppy heads of carved leaves.
Cross
Wood processional Latin cross with Corpus Christi, on metal pole.
Remembrance table
Twentieth-century, with glass top and sides, containing Book of Remembrance of people whose ashes are buried in churchyard Garden of Remembrance.
Sanctuary lamp
Metal, made by local craftsman, twentieth-century, with scalloped drip pan and chains.
Chandeliers
Twentieth-century, by local craftsman, two wrought iron, in style of corona lucis with eight candle drip pans and four electric light fittings.
Lecterns
One turned wood with cross base.
One, wood with desk supported on pierced cruciform brackets with scalloped edges and turned brass candlestick at right hand sides, on a stepped cruciform-style base.
Clerk's desk
Wood with brass candleholders at each side.
Bible
A full leather bound Bible, Authorized Version. Published Oxford, printed at University Press 1876. Inscribed on inside front cover:
Presented
the newly restored Church
of
Car Colston
Wm Clowes Esq Junr.
Sept. 1882
Statuette
Small statuette of Virgin Mary with Christ Child on small bracket set on north wall by altar.
Nave
Pulpit
Jacobean pulpit with octagonal drum, the facets having three shallow coffered panels on each, the top one having incised decoration.
| | |
| --- | --- |
| One of the medieval benches | Bench with 17th Century (?) carving |
Benches
Two plain benches to north and ditto to south with shaped ends with simple moulded edging.
Several fourteenth-century benches.
Table
Small plain table with brass plate inscribed:
In memory of Henry Casswell Hughes 1840-1928
and of his wife
Martha Ann Hughes 1847-1928
R.I.P.
Alms box
Wood pillar alms box with iron lid, early sixteenth-century.
Font
Plain drum-shaped font with no decoration, from one block of stone, plain wood lid. Norman.
Bier light
Twisted stem, cast iron with tripartite splayed foot and shallow drip pan.
North Aisle
Press
Softwood nineteenth- or twentieth-century linen and vestment press, with drawers labelled white, red, green and purple.
Chest
Twentieth-century frontal chest with hinged top-opening.
Crosses
Corpus Christi on wood Latin cross.
Plain Latin cross.
Table
Twentieth-century roundwood table.
Painting
Copy of Leonardo da Vinci cartoon of the Virgin and Child.
Panel
Framed parchment panel of 1735 being: An ACCOUNT of the Poor of the Parish of Car Colston.
South Aisle
Mensa
Stone altar-top on turned wood legs and inscribed with five consecration crosses.
Cross
Plain wood Latin cross above altar.
Candle snuffer
Brass cone-shaped extinguisher with rolled edge.
Piscina
Small, simple piscina.
Wands
Two identical wands with brass finials, one for churchwarden, one for verger.
Candlesticks
Two brass candlesticks.
Rails
Altar rail with two turned tapered balusters with spiral turned baluster between; moulded top rail and flat bottom rail.
Coffin
Stone coffin of Robert Thoroton discovered in churchyard in 1842 and brought into the church 1863.
Door lock
Lock on south door inscribed 1674 WB. CW
Painting
Oil painting of Assumption of Virgin, painter not known.