Car Colston St Mary
Monuments and Memorials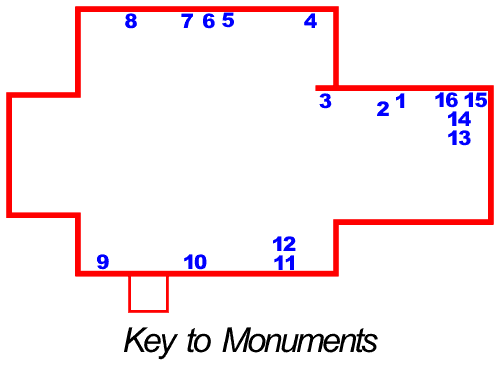 Chancel - North wall
Nave - North Wall
North Aisle
4A brass rectangular plate with clipped corners obscured by boiler room.
South aisle
Chancel - East End
13Floor slab in memory of Thomas Hall, vicar of the parish from 1670 to 1730. Most of this is now obscured by the platform on which the altar stands.
14Partly obscured floor slab in memory of Mary Hall, wife of the above mentioned Thomas Hall, and who died in 1720.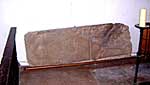 16Lying on its side and affixed to the north wall in the sanctuary is the headstone from the grave of Robert Thoroton.
Chancel roof
On corbels of roof beams, six shields, three to the north and three to the south.
North side east to west:
Argent in fess five lozenges gules. Newmarch
Bary gules and argent, a three point label azure. Barry
Sable a chevron argent between two martlets and a cross bottonée fitched of the same. Gloucester
South side east to west:
Argent on a bend sable between six crosses bottonée gules three bezants. Whatton.
Or on a fess gules three water-bougets argent. Bingham.
Argent two bendlets engiouled between as many pouches, sable, stringed or. Blagg.