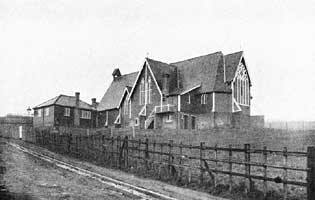 Carlton
St Michael and All Angels
Gedling Archdeaconry
Nottingham Deanery
Introduction
St Michael and All Angels' church on the corner of Foxhill Road and Hill View, used to serve the Thorneywood area. It was constructed of brick and wood, was moved from Wallington, Surrey in 1907 and dedicated by the Bishop of Southwell on 14 December of that year. The large scale Ordnance Survey map from 1953 shows a building on a different orientation and plan. This same building in 1961 is marked as Foxhill Gospel Hall (Plymouth Brethren). The site is now 'Foxhill Evangelical Church'.
St Michael and All Angels' was apparently the temporary home of the old Saxondale font before it was moved to St Cyprian's, Sneinton, and it is known that the altar and font of St Michael and All Angels' were moved to St James', Porchester in 1933.
Particular thanks to Anthony Hood for the photograph.