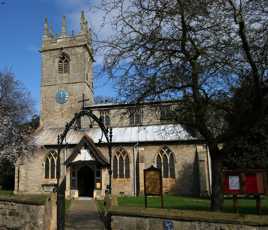 Clayworth
St Peter
Newark Archdeaconry
Bassetlaw and Bawtry Deanery
Introduction
The village is called 'Clavord' in Domesday, but there is no mention of church.
The building is stone, some ashlar, and consists of a chancel, nave, aisles, south porch and embattled tower containing 3 bells, dated 1629, 1652 and 1722. The north aisle extends along the whole length of the chancel, the south aisle is prolonged by the St Nicholas' Chapel (c1388).
The ground floor of the tower could be pre-Conquest or early Norman. Further up is a Norman window and the top is Perpendicular with 8 pinnacles. The arcades of the two aisles are very weird and not yet fully explained (Pevsner). The profile of the piers appears to have no connection with the profile of the arches.
There is a handsome oak screen between the nave and the chancel, and a heavy stone parclose screen between the south aisle and St Nicholas' Chapel.
There are clerestories with three Perpendicular windows on each side. There is much stained glass, including several windows by Kempe.
There is a monument to Humphrey Fitzwilliam (1559), and a brass with a half-effigy of John Tonstall, rector 1630; also a monument to Francis Otter (1813) by Sir Richard Westmacott.
The church has two fonts, one medieval, one added in 1874-5 during the restoration supervised by Oldrid Scott when open benches were added to some 17th century pews.
The outstanding feature of the church is the stunning wall paintings by the Edinburgh artist Phoebe Anna Traquair in 1904-5, executed as a village memorial for the second Boer War. It is one of only two or three works painted by her in England.
Particular thanks to Nathan Ladd for research on this entry
Work has been done on this entry but some pages are incomplete. If you can add information to help complete the entry, please contact our Research Manager.