Clifton St Mary
Bells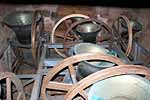 Bells and bell frame
In 1872 William Phillimore, in his treatise on Nottinghamshire Campanology, published in The Reliquary, Quarterly Archaeological Journal and Review, registered the details of the then four bells which coincides with the descriptions below, as recorded by George Dawson but the method of numbering was slightly different. As described below, the fifth bell was not added until 1894.
The details that follow are drawn from Dawson's description.
The bells are housed in a central tower containing a ring of eight bells.
The inscriptions and other details are as follows:
Inscription
Size
Weight
1
[Decoration] 19 (T) 96
Waist: GIVEN BY THE
SOUTHWELL DIOCESAN GUILD
OF CHURCH BELL RINGERS
TO MARK THE
50TH ANNIVERSARY OF ITS FOUNDATION.
Reverse waist: [154]
1946 - 1996

22"

2.3.14
2
[Leaf decoration] 19 (T) 97 [Leaf decoration]
Waist: LYNN FOX - TEAM VICAR
ROBERT OLDROYD } CHURCHWARDENS
IAN SULLEY }

22.5"

2.3.18
3

[Vine leaves]

Waist: 19(T)91

23.625"
2.3.25
4

Exactly as 1.

24.5"
3.0.13
5

Exactly as 1.

26"
3.2.3
6

Exactly as 1.

27.5"
4.0.25
7

As 1.

Waist: 19(T)92

Reverse waist: THE SIX BELLS CAST FOR

THIS CHURCH IN 1894
TRANSFERRED TO
ST. MARY'S PLUMTREE
1991

30.75"
5.2.22

8

As 1.
Waist: As 5
Reverse waist: ALAN HEATON – RECTOR
KEITH ELKINS }
PETER HAYWARD } CHURCHWARDENS

34.375"
8.0.8 A
The bells are hung in a fabricated steel low sided frame for six bells but set out for eight. They were hung from cast-iron headstocks and ball bearings by Frederick Pembleton in 1992. The ring is hung at the lower stage of the tower. They replace a much heavier ring of six bells which it had not been possible to ring for many years. These were transferred to Plumtree church. Full details of these are:
Inscription
Size
Weight
1

+O come let us sing to the LORD

Waist: A.D.1894

JOHN TAYLOR & CO

FOUNDERS

LOUGHBOROUGH

29.5"
5.1.12
2

GOD SAVE HIS CHURCH 1707

Waist: RECAST A.D.1894

31.75"
6.2.4
3

[+5] [40] my roaring sound doth warning give that men cannot heare always lyve 1603.

Waist: As 2

34.5"
8.1.12
4

[+5] JHESUS [39] BE[39] OUR[39][39] SPEDE[39]1589[39][39][40][39]

Waist: As 2 plus the Clifton crest

36.125"
9.1.17
5

My roaring sound doth warning give that men cannot heare always lyve 1605 [40]

Waist: As 2

40.5"
12.2.17

6

[11] The love of Christ constraineth us

Waist: R.W. Wynee Ffoulkes, Rector
Henry Robert Clifton }

George Wooton } Churchwardens

A.D. 1894

45.375"
17.0.10 E
The old ring were hung in a composite frame, cast-iron H's on wooden top and bottom cills, with cast-iron headstocks, all by Taylors in 1894 when they recast and rehung the old four bells. At the end of 1972, ringing of the bells was forced to be abandoned due to the unsafe nature of the tower. It was discovered that all four walls of the tower were cracked due to the undue stress placed upon them by the weight of the bells. They were rehung on ball bearings in 1974, and, although no record can be found, they were presumably reinstated after that date.
Prior to 1894 there were four bells and service bell. These had the same principal inscriptions as Bells 2 to 5 above. Physical data on them was (85):
| | | |
| --- | --- | --- |
| 1. | 32.75" | 5.3.9 |
| 2. | 34.75" | 7.1.3 |
| 3. | 38.375" | 10.2.16 |
| 4. | 40.375" | 10.2.19 F sharp |
| Service bell | 11.625" | 0.1.12 |
The service bell (also known as the "tingtang" bell) was inscribed:
THOMAS HEDDERLY FOUNDER 1762
Besides the inscriptions Phillimore's notebooks gives details of the position of the bells in the tower from which it can be deduced that the frame was of the 'hollow centre' type.
It is interesting to note that Clifford Clifton, second son of Gervase Clifton was elected the second Master of the College Youths in London in 1638 when he was only 23 years old.
The 1552 inventory records: 'two bells in the stiple (sic) with one little bell'.