Clifton St Mary
Features and Fittings
Chancel
| | |
| --- | --- |
| Altar and reredos | Detail of reredos |
Reredos
There is an ornate, gilded alabaster reredos depicting the Crucifixion. It was designed by the architect W.F. Bodley and dates from 1884.
Piscina and Sedilia

Piscina and sedilia
There is a piscina and a triple sedilia at the east end of the south wall.
Choir stalls

The choir stalls
looking west
The choir stalls line the north and south sides of the chancel at the west end. They are elaborately carved with trefoil and castellated backs, ornate ends, and pierced work frontals. Apparently 19th century.
Chest
In the chancel is a document chest, probably dating from the 17th century. It has a coped lid with three iron straps and three separate locks.
Nave
Font
| | |
| --- | --- |
| Font | Font cover |
The octagonal font has a distinctive and interesting heavy wooden cover. It is adorned with a number of brass decorations alternatively depicting the initials 'MR', fleur-de-lis and the Tudor Rose. Since the 'MR' applies to Maria Regina it would appear that the cover dates from pre-Reformation times.
It is likely that it escaped destruction under Elizabeth I's orders by being secreted away, as was the altar stone that dates from the same period.
Pulpit

Pulpit
Plain, openwork, probably of pine and 20th century. A brass tablet on the pulpit reads:
THIS PULPIT WAS GIVEN BY
LT COLONEL CLIFTON, C.M.G; D.S.O.
AND MADE BY
WALTER PRICE,
ESTATE CARPENTER.
MAY 20TH 1930.
Pews
The pews are entirely modern, of the late 20th century.
Screen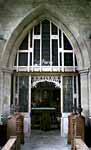 Screen between
the chancel and
the crossing
Between the crossing and the chancel is a late 20th century glazed screen, four lights below with central doors, ogee carvings.