Farndon St Peter
Bells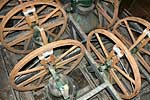 There are six bells in the tower, formerly hung in a wooden frame, Elphick Type 'W', designed for four bells. In late 1998 the bells and frame were removed from the tower for restoration and augmentation to six (from the earlier four) by Hayward Mills Associates. The frame, on close examination, was found to be dated 1703 in two separate places.
Bell details are:
Inscription
Founder
Date
Size
Weight
1

Waist: JOHN QUARRELL - RECTOR
GEORGE HARPER
}

CHURCHWARDEN
DAVID LOCKWOOD
}
Reverse waist: 'ANNUNCIATION'

John Taylor Bellfounders Ltd
1999
27.50"
4-1-25
2

J : TAYLOR & SON FOUNDERS LOUGHBOROUGH : A : D : 1846

John Taylor & Son
1846
29.00"
4-1-1
3

Waist: THE FORSBERRY BELL
Reverse waist. [St. Peters keys] ST. PETER

John Taylor Bellfounders Ltd
1999
30.00"
5-0-2
4

Iohn Ward and Tho Butler Churchwarden Tho Hedder 1774

Thomas I Hedderly
1774
31.75"
5-2-7
5

God Save Ovr Chuvrch

Henry II Oldfield
35.50"
7-1-10

6

Jhesus Be Ovr Spede

Henry I Oldfield
1589†
38.00"
9-0-18
Before 1998 the details of the treble were:
Remvnerabit Coelvm Benefactoribvs Meis 1710 – by the founder William Noone
This bell was removed from the ring as it was fund to be un-tuneable and is now in safe storage.
There are no returns for the 1552 Edward VI inventory, but in 1740 there were two bells recorded (probably an error).