Haughton Chapel
Features and Fittings

Chancel arch (This drawing, looking towards west window and bellcote, is by E. Baldock of Worksop in Haughton chapel guide 1909)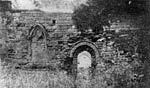 Early Norman south doorway - photograph in Blagg. For various other pictures up to c1950 see Pictures page.
Goodacre's Drawings

Ground plan
South Elevation
North Elevation
(Inset: Arch - North chancel)
East & West Elevations
and chancel arch
Herringbone courses east of and adjacent to south doorway - described in Blagg, drawn by Goodacre 1913
Stone altar slab blocking nave window - photograph in Blagg.
Small low blocked up chancel window - photograph in Blagg.
A damaged piscina in situ in the south wall of the chancel
Plain circular tub font 30 inches diameter - now at Walesby church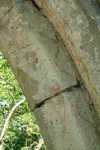 Coloured decorative tracery of vines, leaves and rosettes on the south facing underside of the north wall arcading. Awaiting confirmation of date. Click here for further photographs.