Hucknall
St Mary Magdalene
Churchyard
The large churchyard of 1.9 acres (0.7 hectares) surrounds the church on the south, west and north sides. On the eastern side of the churchyard is the town's market place.
Gravestones of Interest

To the north of the church is the tomb of Ben Caunt, Boxing Champion of England, 1841-45, after whom the bell "Big Ben" in the Houses of Parliament is named. The inscriptions read:
BEN CAUNT
CHAMPION
OF ENGLAND
1841-1845
IN
AFFECTIONATE REMEMBRANCE OF
MY BELOVED FATHER
BENJAMIN CAUNT
WHO DIED SEPR 1OTH 1861
AGED 46 YEARS
MY BELOVED MOTHER
MARTHA CAUNT
WHO DIED, JUNE 1ST 1859
BOTH THE ABOVE WERE INTERRED IN
THIS CHURCH YARD.
ALSO OF MY BELOVED BROTHER
BENJAMIN BUTLER CAUNT
WHO DIED JANY 9TH 1870,
AGED 29 YEARS.
INTERRED IN KENSAL GREEN CEMETERY
TO THIS MEMORY OF
MARTHA, aged 8 years;
and CORNELIUS, aged 6 years
The beloved children of
BENJAMIN AND MARTHA CAUNT
natives of this town,
whose residence in
SAINT MARTIN'S LANE, LONDON
accidentally taking fire
very early in the morning of
the 15th of Jany 1851,
THEY UNHAPPILY PERISHED.
Another grave marker records that John Franks died 'instantaneously while ploughing' in 1857

Two grave markers commemorate a tragic accident in January 1886 when two boys, William Barnsley (aged 16) and William Inman (aged 11), fell through the ice covering Annesley Pond and were drowned.

A grave marker in memory of George Jacklin who died while sinking in Linby Colliery in 1875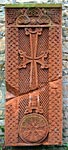 An unusual monument is the Armenian Cross ('Khatchar') fixed to the tower wall which was presented to Holgate School in Hucknall in recognition of the support given by the people of the town to the Armenian people following the devastating earthquake of 1988. The cross is dedicated to the memory of Father Fred Green.