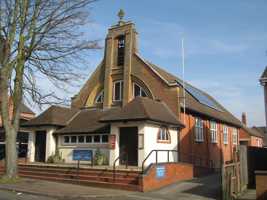 Lady Bay
All Hallows
Nottingham Archdeaconry
West Bingham Deanery
Introduction
All Hallows' Church was built in 1901 of red Nottingham brick with Bath limestone facings. It is of simple design except at the Pierrepont Road end which has features of the Arts and Crafts movement, eg oak doors with iron fittings and a beaux-arts style eyebrow window.
It consists of a nave, a chancel, baptistry (which doubles as a utility room and kitchen), porch, and turret at the west end with a single bell. There are four plain windows each side. The stained east window by Hincks of Nottingham shows Jesus as 'King of Kings' and was installed in 1950. In the entrance porch is a semi-circular stained window by Michael Stokes (1991). The old baptistry windows now show nativity scenes by Norman and Underwood of Leicester (2005).
The pipe organ was built in 1932 by Wragg & Sons of Nottingham
The ornate oak pulpit came from St James' Church, Nottingham in 1955. Also of oak, the font has a brass and copper handle to the cover.
There are plain oak choir stalls and altar rail, reader's desk and lectern (1912) and a modern oak bishop's chair.
There are no monuments.
With thanks to Geoff Buxton for photographs.