Lambley Holy Trinity
Archaeology
Earliest core fabric is the west tower: 2 stages, lower C12/13, upper C15th.
Core fabric of nave and chancel is C15th, with N.chancel wall C14th. S.Porch C15th.
Former 2 storey chantry chapel on north side of chancel, c. AD 1340. Hagioscope from area of former upper room survives giving a view into the chancel.
Blocked north doorway to nave, C15th. Blocking material of uncertain date.
Surviving rood loft stair to both north and south sides of screen which is unusual. North stair is straight to loft height, south stair is turnpike starting at loft height and continuing to roof where it terminates in a small turret.
Medieval Cross Slabs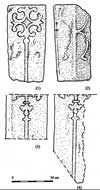 Cross slabs 1-4

Cross slab 5
(1) Slab now forming the northern part of the western bench of the south porch. Upper part of slab with incised round-leaf bracelet cross, with ball at top of shaft. A conventional design, perhaps of the later 12th century.
(2) Slab now forming the southern part of the eastern bench of the south porch. Relief carving on slightly-coped slab, quite worn; mid-section of a cross slab with a 'double omega' pattern, typical of the products of the Barnack workshops in Northamptonshire (Butler, 1964), a motif thought to relate to the throwing of foliage onto a coffin as part of the rites of burial. A rarity this far north; there are other examples at South Leverton, and at Breadsall in Derbyshire.
(3) Slab re-used in the roof of the rood stair, at the north-east corner of the nave, about 2 m from the bottom (the upper section of this stair, and the second section at the south end of the former rood beam, rising to a roof turret, are not really accessible and have not been inspected). Incised straight-arm cross with fleur-de-lys terminals and ring at top of shaft. Probably 14th century.
(4) Slab re-used as internal lintel of small window from upper room of now-demolished north-east chapel, visible (with difficulty) from the chancel. Identical stone to (3) with rather more of the cross shaft exposed.
(5) This slab was found during an excavation by Trent & Peak Archaeology in 2013, in two pieces which had been re-used in a possible font foundation at the west end of the nave. The slab is of limestone, identified as of Lincolnshire origin, and its two matching fragments make up the 590 mm long upper part of a stone tapering from 620 to 570 mm; it is of slightly coped section, 120 mm thick at the edges and 150 mm in the centre. The design is carved in relief within a raised border; it consists of a slender cross, its upright set at a slightly skewed angle, with rectangular block terminals to the upper and lateral arms; the upper terminal has a short projection above it continuing the line of the cross shaft.
This is a difficult stone to date; although its design is simple, it does not seem to have any local parallels amongst medieval cross slabs; the stylistic affinities of block or 'hammerhead' terminals like this are really before the Conquest (cf slab at Kirkdale in North Yorkshire and headstones at Lindisfarne, Northumberland) and so it could be of relatively early date.
Descriptions and illustrations of cross slabs courtesy of Peter Ryder.
Timbers and roofs
| | | | |
| --- | --- | --- | --- |
| | Nave | Chancel | Tower |
| Main | Ties, purlins & principals 1631 | Ties, purlins & principals 1631 | Tie, rafters & purlins C15th |
| S. Aisle | N/A | N/A | N/A |
| N. Aisle | N/A | Modern roof to vestry | N/A |
| Other principal | None | None | All timberwork C15th or earlier |
| Other timbers | None | None | Bellframe (see below) |
Bellframe
Elphick Type J hybrid / Pickford Group 3.G hybrid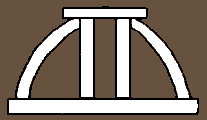 Probably pre-C15th as the frame has clearly been cut down on the east side to fit the reduced belfry space at this height. Dendro-dating attempted in 1983 but samples had too few rings.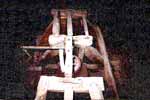 Scheduled for preservation Grade 1.
On CCC list for national preservation.

Walls
| | | | |
| --- | --- | --- | --- |
| | Nave | Chancel | Tower |
| Plaster covering & date | No plaster | No plaster | No plaster |
| Potential for wall paintings | Nil | Nil | Nil |
Excavations and potential for survival of below-ground archaeology
During repairs in 1984, several inlaid mediaeval floor tiles were discovered underneath boards supporting the lead of the parapet gutters on the south side of the nave roof. All tiles are typically East Midlands work of the C14th. Eleven tiles have decorated ornament and there were, in addition, three plain green glazed tiles.
Evaluation excavation July 1998 by Trent and Peak Archaeological Trust on the north side of the nave adjacent to the blocked north doorway. Four separate evaluation trenches were opened and the results revealed that archaeological deposits were present at all depths. Late C12th domestic pottery was found and other palaeoenvironmental evidence. Close to the present north wall of the church the structural remains of a probable former north aisle, pre-dating the C15th, were located.
Foundations under the north wall, probably re-used stone
Foundations of former aisle to north of existing church along with re-deposited clay and a buried soil
General view of excavations to north of church during archaeological evaluation
Photographs courtesy of Trent and Peak Archaeological Trust
Trent & Peak Archaeology was commissioned on behalf of Lambley Parochial Church Council to carry out archaeological recording during construction of an external north extension (in 2012) and internally the re-flooring of the tower and west end of the nave (in 2013). A summary report of the excavation is available.
Looking west towards the tower arch showing stone wall foundations exposed at the west end of the nave.
Looking southwest showing two sets of earlier nave foundations, with west wall of pitched foundation abutted by later phase faced with large stones and a rubble core.
Rectangular font foundation containing re-used stones including cross-slab in upper right-hand corner.
Photographs courtesy of Trent and Peak Archaeological Trust
The overall potential for the survival of below-ground archaeology in the churchyard or below the present interior floors is considered to be very high.
Exterior:Domestic/ecclesiastical C12th-C19th, low incidence of burial on north side, high levels of palaeoenvironmental deposits.
Interior:Nave and much of chancel will have C15th rebuilding debris which should contain earlier material. Earlier deposits are likely to survive below. Tower may have complex C12-C15th stratigraphy. Little 18/19th disturbance likely.