Mansfield St John
Glass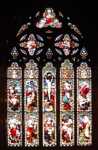 East window
There is a window on the east wall which is dedicated to Mr Galley Knight and cost £250; it illustrates some of the later events in Christ's life on earth and has the following inscription at the base:
To the glory of God, and in pious memory of Galley Knight, Esquire,
the founder of this church, A.D. 1870
There is a stained glass memorial window in the chancel in honour of the Reverend E. Pellew, and other windows are dedicated to James Green Halgh (died 8 November 1853), Mill Williamson, Miss Moffat (died 22 March 1855) and Miss Hall.
In 1963 two stained glass windows were dedicated by Mr Mellors in memory of Mrs Hilda Eleanor Mellors (1886-1961). These windows were designed by R. A. Milne who personally supervised the production by Messrs. Pope & Parr of Nottingham. Pevsner surmised that the west window may have been done by Holland of Warwick and describes it as 'first rate'.