Mansfield Woodhouse
St Edmund
Monuments and Memorials
Note that in addition to the monuments recorded here, certain of the windows in the church have memorial inscriptions.
Lady Chapel
Digby Monument and Plaque
| | |
| --- | --- |
| The Digby memorial | The Digby plaque |
The most notable feature in the Lady Chapel is the memorial to Sir John Digby, who died in 1684, aged 81 and his wife, Lucie, who died a short time after aged 89. The life-size figures are standing in a stone frame with a curved stone pediment-like top. He is dressed in a full suit of armour of the period with a sash about his shoulder and a helmet at his feet. His wife is wearing a long flowing gown with puffed sleeves and her head-dress is tied beneath her chin. In her hand she holds a pat of butter supposedly to grease St Peter's palm at the gates of Heaven. At one time Sir Digby was depicted holding his own sword, by the hilt, with the point to the ground. This has long since disappeared. Pevsner comments that the memorial is atrociously provincial.
It seems probable that the memorial is not in its original position. If, before the extension of the sanctuary, the Lady Chapel had been its present size, the unusual situation would have existed where it would have projected beyond the chancel. A smaller chapel would not have provided enough room for the memorial.
Sir John Digby lived in the 15th century building adjacent to the church, known as the Manor House. During the English Civil War he was a supporter of the Royalists and King Charles I. He became High Sheriff of Nottinghamshire in 1641 and received a knighthood in 1642.
There are two inscriptions, one in Latin beneath the memorial and one in English on the south wall relating to their family.
The Latin inscription translates:
Sacred to the Almighty and the most great God, and to the memory of John Digby, knight and Lucy his wife.
This
Of famed birth and of greater ...... allow none equal in dignity in any way, nevertheless by virtue more famed than any other knight; at the same time a man born into the example of goodness, notable by virtue as much in private life as in public in the instruction of sinners as much in prudence as in principal for his native country; of singular faith, advanced to the ordering of the most powerful and honourable office in the counties of York, Notts and Lincs and by his office thus discharged ..... by his memory..... of wishes, and at length sitting in the place granted by fate to his descendants .... from the most ancient and splendid family of Trygotts in the county of York came his wife, faithful in public life and in things domestic, mother of the family and most careful in the pious education of children able in all things.
He died in the 82nd year of his life and was survived five months by his wife in the 92nd year of her life.
NB there is a discrepancy in the historical notes relating to their ages and length of time she survived him.
The south wall inscription reads:
THAT IT MAY BE KNOWN WHERE THE REMAINS OF THE WORTHY
PERSONS DECEASED ARE DEPOSITED
JOHN DIGBY ESQUIRE
Son and heir of Sir John Digby of Mansfield Woodhouse, Knight. Married Frances; soul daughter of Leonard Pinkney, of Westminster, Esquire; by whom he issue, Kenelm, John, George, Lucy, Elizabeth and Frances; who all except John, died young. The first named John died in the 58th year of his age, leaving Frances his widow who afterwards married Charles Osborne Esquire, soul brother to Thomas Duke of Leeds and died in the 80th year of her age, 1725. John the surviving son and heir of John Digby, July 2, 1696, married Anne, eldest daughter and co-heiress of Sir Edward Ayscough of South Kelsey in the county of Lincoln, Knight, who died the 14th of October following (as appears by the adjoining monument) he afterwards married Jane, the youngest daughter to Sir Thomas Wharton, of Edlington, Knight in the county of York, Knight of the Bath. At the coronation of King Charles 1 which Sir Thomas was grandson of Philip by Sir Thomas Wharton his sons and heir, the soul brother to another Philip, both Lords Wharton. By her he had issue Frances, Fyotier, The Grange, near Grantham in the county of Lincoln, Esquire; Lucy, Anne, Elizabeth, who all died young; John who died August 11 1728, in the 23rd year of his age, Philadelphia, married to Sir George Cayley of Brompton in the county of York, BAR, Rosamond and Thomas, who died young; Mary, married to George Cartwright, of Ossington, in the county of Nottingham, Esquire; Priscilla, Henrietta and Lucy.
John Digby, the Father, died August 16th 1722 to whose memory, and of his ancestors here named and of his eldest son, His widow Jane Digby, and his daughter Legard, in testimony of their duty and affection have erected this monument.
MDCC XLVII
Aumbry
Inscription reads:
To the Glory of God this Aumbry was given in memory of his wife Alice Louisa Lownds by the Rev John Lownds Curate of Mansfield Woodhouse 1919-1925 and Vicar 1925-1932.
Stone and marble plaque south wall:
TO THE GLORY OF GOD
AND IN MEMORY OF
FREDERICK JOHN TURNER
Who died 10 March 1906 aged 82. This tablet is erected by the many friends whose affection and esteem he won by his kind & genial nature and integrity justice and enlightened views in the management of the estates of the Dukes of Portland for which he was for fortyeight years agent *** a ward in Mansfield District Hospital has also been erected and dedicated by them as a fitting monument to one who was distinguished by his benevolence and the public spirit of a good citizen.
Stone plaque south wall:
TO THE GLORY OF GOD
AND IN
LOVING MEMORY OF
FRANCIS
NEWMAN ELLIS
Knight of grace of the order of St John of Jerusalem in the British realm.
Born at Leicester 19th November 1855 died at Debdale Hall in this parish 9th October 1934.
In all thy ways acknowledge Him and He shall direct thy paths.
Nave
Marble plaque:
To the revered memory of Walter Need, Captain R. N. (youngest son of Colonel John Need, of Mansfield Woodhouse and Blidworth.) Born September 19th 1809 died April 5th 1901 and Emily McMahon Need for his wife born March 11th 1831 died March 29th 1910. Devoted worshippers in this Church, this tablet is placed here by their children. In thy presence is the fullness of joy.
Wooden plaque south side:
In loving memory of Dr Harold Draycott Preston whose ashes we buried in the churchyard, benefactor and faithful servant of this Church for 30 years. Church Warden from 1945 til his death on February 23rd 1952 RIP.
Carving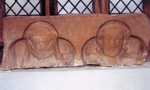 Carving of a knight and lady,
presumaby part of an former monument
Tower
Above tower door
On a wooden plaque with steel curved inscription:
This clock was made in the 21st year of the reign of her majesty Queen Victoria for the parish church of Mansfield Woodhouse by George William Cope of Nottingham July 1859. And paid for from the rents of the Clay Pit Lands by John Beardall, John Oaks, John Booth, Thomas Brooks, William Cripwell, trustees of the clay pit lands - William Cripwell, Thomas Tebbet, church wardens.
Underneath is a wooden plaque with brass inscription which reads:
This inscription from the church clock is placed here in the memory of Clarence John Read-Johnson and in thanksgiving for his 50 years service with the Mansfield Woodhouse District Council.
Large plaque, south side of tower
In memory of Rowland Dand. Note that one of the windows is also connected with the Dand family.
Stone plaque south side of tower:
In memory of William Pinckney of Mansfield Woodhouse Esq who was a very worthy gentleman and esteemed by all that who knew him. He was one of the tellers of ye exchequer in the reign of King Charles ye II and dyed September 13th 1694.
In memory also Leonard Pinckney Esq (only son of the said William) who was verderer of ye forest of Sherwood, customer of Newcastle, gentleman usher to Queen Anne, King George I , King George II and one of his majesty's justices of ye peace for this county. Of all which places he was possessed when he died (much lamented) August 13th 1731 aged 52.
'He married Elizabeth the daughter of John South of Kelfton in ye county of Lincoln Esq. She was maid of honour to King James II Queen and surviving without issue. Erected this in affection to her dear husband.
Fancy shaped stone plaque above tower door to belfry:
Here lieth the body of Dame Jane Wharton, daughter of Rowland Dand of Mansfield Woodhouse, in the county of Nottingham Esq. Who was first married to Leonard Robinson, of Kirkby Ravenforth in ye county of York on 9th January 1671. She had issue by him one daughter who died young. Her second husband was ye Hon. Sir Thomas Wharton Knight of Ye Bath brother of ye Wright Hon ye Lord of Ye Lord Wharton whom she married ye 4th May 1676 and had issue by him two daughters Elizabeth and Jane.
Elizabeth married Thomas Benet of Salthorp in ye county of Wilts Esq.
Jane married John Digby of Mansfield Woodhouse in ye county of Nottingham Esq. She departed this life on ye 14th day of June 1714 in ye 75th year of her age. Here also lieth ye body of Jane daughter of Thomas Benet of Salthorp in ye county of Wilts Esq by Elizabeth daughter of Ye Hon Sir Thomas Wharton knight of ye Bath. His second wife born May ye 5th 1714 departed this life August 11th 1716.
(NB there is an error on the inscription regarding the dates in the last sentence).
West Wall left of tower door (two stone plaques):
Sacred to the memory of Harriet Wright Milner who departed this life 3rd Feb 1826 aged 38 years. Also Mary the infant daughter of Edmund and Harriet Milner.
Sacred to the memory of Capt Edmund Milner R N who died at Douglas Isle of Man 28th Sept 1841 aged 63 years.
There remaineth therefore a rest to the people of God.
Elizabeth Eyre eldest daughter of Jervais formerly of Rampton in this county died April 1st 1750.
This monument is erected to her memory at the request of her only surviving sister Diana Eyre who died August 1763 aged 71 years and also lies in this church.
The righteous shall be had in everlasting remembrance.
North side of tower
There are six stone plaques. The inscriptions on some of them are as follows:
Sacred to the memory of Robert Toplis who died March 4th 1831 aged 64 years.
ENS ENTIUN MISERERE NEI
Then also
Ellen Relict of the above Robert Toplis, who died May 3rd 1834 aged 67 years.
Blessed are the dead who died in the Lord.
Sacred to the memory of John Anson Smith Esq who departed this life March 10th MDCCCXXV (1825) aged LXV (65 years)
Also Ann Smith his wife who departed this life September 13th MDCCCXXVII (1827) also aged LXV (65 years).
Also William Anson Smith who died September 25th in MDCCCXXXV (1835) aged XL (40 years).
La Mort est elle un mal
La vie est elle un hien.
In affectionate remembrance of Edward Woodcock who died February 15th 1828 aged 83 yrs. Also of Sarah relict of Edward Woodcock who died December 27th 1839 aged 84 yrs.
Sacred to the memory of Joseph Johnson who died May 15th AD 1811
Near this place are deposited the remains of Heneage Parker Esq. Who died August 13th 1812 aged 76 yrs.
North wall
Plaque with Latin inscription
There is a Coat of Arms including a date: 1728. The name on the plaque reads: GULIELMUS TUNSTALL
Stone plaque:
Here lieth y body of M Alice Gething.
One of the sisters of Charles Cack of Brinsley, Gent. She lived to the good old age of 77. Died y sixteenth of June 1759. This monument -------- (rest illegible.)
Chancel
Plaque on the North side:
D. Trinvni On Gloria.
Memoria Ivstorvn Benedicetvr,
Pro 1017
Here under lye interred Rowland Dand Gent. And Margery his loving and beloved second wife; eldest daught of Laurence Wodenothe, of Shavinton, of Wodenothe in ye Countypalatyen of Chester Esq. Which Margery being of age Nervus Natere Trve religious; pittyfull and liberall to ye poor and needy. Having lived in happy marriage with her said husband 46 yeares and 27 daies died in the Lord Jesus on Tuesday 13th May in ye yeare of Christ 1617 and of her age 73.
And the said Rowland for his approved wisdome, integrity of Lyfe, love to his friends, piety towards God & propensens to ye doing of good; being much esteemed and having merited thankful neverdying memory of his children & posterity (Wch he lived to see to ye 4th generation) ended his praise worthy and well acted life in the true faith of Christ on Monday 8th December in the year of Grace 1623 and of his age 91.
Vitae Summa Breuis Spn Nos Vetat Inchorae Longam
Iwet R.B. Testamenti S B 1.
Execvtores Amoris & Observanta ergo PP.
Tombstones on the Chancel floor
North side:
Beneath are interred the remains of Ellen Toplis Catlow (daughter of the late Revd Samuel Catlow) who departed this life March 4th 1835, in the 33rd year of her age
South side:
Here lieth the body of Leonard Pinckney Esqr who died the 13th August 1731.
Here lyeth the body of Elizabeth Pinckney widow of the above Leonard Pinckney who died Febry 18th 1747
South side:
Here lies
Hayman Rooke Esq
Obit Sept 1806
Aged 83