North Muskham St Wilfrid
Glass

The Barton rebus
There are several stained glass windows, very little of which is of late medieval date. Two north aisle windows and the south aisle east window contain 15th century glass incorporating the Barton rebus. A rebus is a heraldic device hinting at the name of the bearer, in this case representations of a barrel or 'tun', part of the rebus based on the Barton (Bear - tun) family name, the badge of the family who were the benefactors to the church before the Reformation, and resided at Holme.
Chancel
East Window
The east window dates from around 1905 and is a memorial to the Rev. Francis Oswald Colley, vicar of North Muskham 1902-05. The window depicts Our Lord, Paulinus, Mary, St Wilfrid and Mary Magdalene. The inscription reads:
TO
the Glory of God
and in
loving memory of
Francis Oswald
Colley M A
Vicar of
North Muskham-
cum-Bathley
1902-1905
This window is
erected by his Mother,
Brother & Sisters.
| | | | |
| --- | --- | --- | --- |
| East window | Detail | Detail of St Wilfrid | Inscription |
North Aisle
The east window of the north aisle has stained glass produced by the Nottingham company of Hincks and Burnell in 1939. The window was commissioned by Maria Beatrix Hull in memory of the Reverend John Winstanley Hull (vicar of North Muskham from 1853 to 1902), his wife Charlotte Augusta, his eldest son William and his youngest daughter, Katherine. The Latin inscription reads:
Hanc fenestram ornandam curavit
Maria Beatrix Hull in piam
memoriam Johannis Winstanley
Hull hujus ecclesiae decem lustra
vicarii, Carlottae Augustae uxoris
ejus, Gulielmi filii ejus natu maximi,
Katherinae filiae natu minimae.
Anno Domini MCMXXXVIII.
East window of
the north aisle

Detail

Inscription
Maker's mark of
Hincks and Burnell

The north wall of the north aisle has to the west a window with stained glass panels with the Barton rebus and to the east a window with similar 15th century stained glass fragments in the head.
Window
Barton rebus
Glass panel
Glass fragment
West window in the north wall
East window in the north wall
The south wall of the south aisle has to the west a stained glass window dating from c.1913. A brass plaque reads: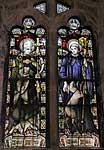 TO THE GLORY OF GOD IN MEMORY OF SAMUEL THOMPSON
PARISH CLERK OF NORTH MUSKHAM & BATHLEY
A.D.1847 TO A.D.1913 & TO COMMEMORATE
THAT UNTIL A.D.1854 THE PARISHES OF NORTH MUSKHAM
(S. WILFRID), & HOLME (S. GILES), WERE UNITED.
THIS WINDOW IS GIVEN BY HIS SON THOMAS THOMPSON
The east window of the south aisle has fragments of 15th century stained glass with the Barton rebus.
The east window
of the south aisle
Fragments of
15th century glass
at the top of
the middle light

Fragments of
15th century glass
at the top of
the left-hand light

Inscription scratched
into glass at the
bottom of the
right-hand light
Nave
The west window was the gift of Thomas Lewis Kekewich Edge esq. of Strelley Hall.