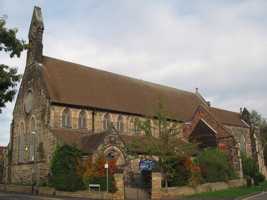 Nottingham
St George in the Meadows
Nottingham Archdeaconry
Nottingham South Deanery
Introduction
The rock-faced Church of St George with Mansfield stone banding is in the Meadows area of Nottingham.
The nave was by R C Sutton in 1887-91, the chancel, organ chamber and vestries added by G F Bodley in 1897, and the Lady Chapel by C G Hare in 1914. Sutton's brick arcades on Mansfield stone columns contrast with Bodley's east end. There are also low aisles, a Blessed Sacrament Chapel and two bellcotes, one bell in each.
Hare planned a wider south aisle, shown by the weatherboarded and brick west wall. There is a very tall separate altar niche with one window high up, 'an impressive composition ' (Pevsner). There is a hanging rood, and a square stone font at the west end.
The wood chancel fittings are by Peter Currey and date from the 1930s, that is apart from the organ case by Bodley in 1905.
The splendid west window of St George and St Michael is by Burlison & Grylls, as probably is the east window. Six windows in the north aisle of mostly English saints are by H T Hincks of Hinchcliffe, Hincks & Burnell. The Lady Chapel windows are by Whitefriars, 1948-9, small ones in the Blessed Sacrament Chapel are probably German.
Outside is a Calvary, put up in 1921 by Pask & Thorpe.
Research for this entry is incomplete. If you, or your group, would like to volunteer, please contact our Research Manager.