Orston
St Mary
Churchyard
The churchyard covers an area of 0.9 acres (0.4 hectares) and surrounds the church on all sides. A stone boundary wall exists on the south, east and north sides of the churchyard. The old school room (currently offices for a construction company) is located in the north-west corner of the churchyard.
Gravestones of Interest
One of the earliest grave markers is to Henry, son of William Wiseman, who died on the 9th June 1710

A grave marker to Thomas Maltby who died on the 8th March, 1881 aged 101 years and 101 days.

A grave marker in memory of children of Sarah and Thomas Maule most of whom died in infancy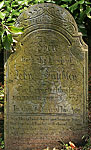 A decorative grave marker to John Fritchley who died on the 23rd December, 1762 aged 54.

The graveyard has a number of slate headstones by Francis & George Lamb of Bottesford.