Orston
St Mary
Monuments and Memorials
Chancel
Two marble tablets in memory of Susanna and William Middlemore are situated either side of the easternmost window on the south wall of the chancel:
North aisle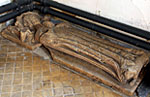 A fine stone effigy, that is somewhat mutilated, lies on the floor at the east end of the north aisle. It was removed from the sill of the north-west window and before that it was in the chancel. Gill suggests that the effigy was brought to the church of her ancestral home from the monastic church of St. Mary at Newstead at the time of Henry VIII during the dissolution of the monasteries, which happened with other monuments and relics across the country in an attempt to save or hide them. The effigy carries no inscription but the style of the dress, the small angels which smooth the pillow, and the details of the canopy depicts workmanship of the early 14th century. Traces of lineage however are borne on two small shields: one, above the right shoulder, bears three water bougets for de Roos, lords of Belvoir, and the manor of Orston in the late 13th and 14th century. The other has been guessed to belong to the D'Albini family as King Richard I granted the manor of Orston to William D'Albini to whom king John granted and confirmed it also. When the 4th William D'Albini died in the succession, the manor was left to his daughter Isabella who was the sole heiress. She married Robert de Roos and conveyed the estates to him.
The figure is represented with a heart or a reliquary between upraised hands. This is intended to indicate that the heart of the individual was given to God, or as a token that the vow to holy church had been duly fulfilled. She was buried in the monastic church attached to the Hospital of St Mary at Newstead AD 1301.
A slate tablet in memory of the Rev. Jonathan Fell is at the east end of the north wall and reads:
South aisle
At the east end of the south aisle are several floor slabs. One commemorates Constantia Kerchevall:
Another floor slab is in memory of John Maltby and his wife, Jane:
South porch
In the porch there is a scrolled head tablet with angel to Eleanor Kerchevall (1695) and a slate tablet to John Kerchevall (1721).