Ravenshead St Peter
Features and Fittings
Main Church
Altar
| | |
| --- | --- |
| Aluminium altar | Altar frontal |
There is a freestanding aluminium altar. The altar frontal was gifted from the people of St John the Baptist in Pinetown, KwaZulu-Natal, celebrating the link between the two churches since 2012.
Pulpit

Large freestanding timber pulpit mounted on four castors with mounting step. The plaque attached is inscribed:
Dedicated in loving memory of Alfred William Smith 6th November 1994
This pulpit replaced the original aluminium one designed by Colin Shewring which had a circular opening in the front to display different coloured fabrics, in accordance with the seasons of the Church year.
Font

The font base is made of concrete and the top of pink Jersey granite with a pine veneer segment cover. The plaque on the cover is inscribed:
Dedicated in loving memory of Arthur Close 6th November 1994
Rostrum
Free standing reading and preaching rostrum with plaque inscribed:
Dedicated in loving memory of Janet Elaine Angus 1939-1995
Candle stand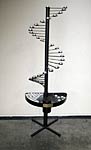 Spiral Derby design votive light stand, candle holder installed 1999, from Ormsby of Scarisbrick Ltd. This memorial candle stand with plaque is inscribed:
Dedicated to the memory of
Christine Ruth Draper
a much loved member of the
St Peter's Gilbert and Sullivan Society
Memorial book

Memorial book: timber and glazed, within a modern glass case on a stand. The plaque reads:
The memorial cabinet was built by Tom Kirkham (Choir member within the Church).
The memorial book was donated by Mrs E Hewitt in memory of Ray Hewitt.
A movable hymn number rack for 6 hymns, constructed in mild steel lacquered, built/designed by Colin Shewring (1972).
Tapestry
of St Peter
Collage of
St Peter as the
Fisher of Men
A tall narrow tapestry collage of St Peter designed, made and donated by Cicely James.
Embroidered collage depicting "St Peter as the Fisher of Men" created by a group of parishioners in 1997 and donated by parishioners for the 25th anniversary of the church.
Timber bishop's chair. The plaque is inscribed:
Dedicated in loving memory of Frank Hunt 6th November 1994.
Priest's seat and desk designed by Colin Shewring.
Two candle sticks and two warden's staves designed by Colin Shewring. The staves were gifted by John Bingham.
Processional cross and stand in Columbian pine with walnut trim designed and built by Tom Kirkham. The cross was dedicated on St. Peter's day 28 June 2009.

Squint between church
and Church Lounge
with cork inset
Squint with slate surround and cork inset mounted between the church and church lounge sited by the light switch cabinet in the church lounge. (The squint is used by the churchwardens during services to turn off/on the lights when there are candles in the services, such as Christingle).
Credence table designed and built by Tom Kirkham, in memory of Howard Morton.
Credence table donated by Mrs M Morton in memoriam of John (Jack) Horace Morton (no plaque).
Music stand, within the choir stalls, purchased by Jill Bailey in memory of Bernard Bailey, October 1989.
Church Lounge
The Cross of Thorns
| | |
| --- | --- |
| 'The Cross of Thorns' | 'Christ on the Cross' |
A mural in metal and stone representing the five senses, created by Gerry Blood (a local artist) and installed in 1977. Donated by the Women's Fellowship.
Painting, "Christ on the cross," by Mr F.M. Sutton.
Broadwood grand piano purchased by the Rev. Barrie Hodges on behalf of the P.C.C in 1972.
Entrance Lobby
Automatic double main and inner doors operated electrically by buttons mounted inside and outside of the entrance lobby, installed in 2005.
Freestanding book trolley with three tier Hymn book stand mounted on castors. This to match pews and other fittings designed by Colin Shewring with plaque inscribed:
The Common Prayer books were given for the worship of God and in loving memory of Anne Butler 2010.