Ruddington St Peter
Churchyard
Part of the
churchyard
Victorian lamp
The churchyard is basically square in shape with a central path leading to a Victorian lampstand at the top, and many well established trees. It was consecrated in 1773. The church can also be reached through a gate by the vicarage and the hermitage. Many of the slate headstones are propped up against the walls, for example, in the north-east corner and along the Hermitage wall. Stone from the church at Flawforth was useful in fencing the burial ground. Nottingham Graveyard Guide 1910-11 records:
The most proper use of the materials of Flawforth church was made in fencing this burial ground.
Two informative sources about the churchyard are terriers and faculties. A terrier of 1813 states that the churchyard consisted of 1 acre 2 yards and was enclosed by a substantial wall and an iron palisade. A later addition to a terrier of 1810 written on the back and dated September 1864 refers to the further addition of 36 perches 20 yards.
In 1919 the Misses Paget, who earlier in 1887 helped enlarge the churchyard, gave a further 20 acres of land situated in Vicarage Lane and £150 towards enclosing it. This was then consecrated and known as the New Churchyard. Mr Joseph Parker presented wrought iron gates at the entrance to this enclosed land. The record states:
To the vicar, churchwardens and parishioners of Ruddington in the county of Nottingham, I hereby give and bequeath to my native village the gates recently erected at the entrance to the additional churchyard in loving memory of my late wife, my father and mother, and other deceased members of my family.
Joseph Parker, Rancliffe, Babbacombe, Torquay.
He also stipulated that the gates should 'be kept well painted and the hinges regularly oiled'.
A register of graves 1926-36 stipulates that the depth of a grave should be between 6 and 7 feet. The cheapest grave cost 17s; a double space was usually £4.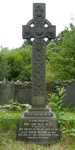 Gravestone of
Philo Laos Mills
and his wife
A faculty dated 2 January 1978 to Rev A C Shrimpton, Hughes and Edgar Stevenson gave permission for the removing of uninscribed kerbs, the levelling of grave mounds and the strengthening of existing headstones. Four years later, a faculty of 2 March 1982 designated an area in the north-east corner for the burial of cremated remains. The Garden of Remembrance can be identified by a plaque on the wall, and almost directly below the east window a number of inscribed memorial stones including Frank Potts, vicar January 1931 to December 1951, have been placed.
Monumental inscriptions list several early eighteenth-century burials, the coffins presumably brought from the church at Flawforth. The earliest headstone is that of Joseph Hodgkinson, son of Joseph and Mary, died 15 July 1703 aged 17. Other interesting headstones include individuals directly connected with St Peter's, for example, William Cheetham MA, curate for 13 years died 11 March 1862; Alfred Cooke, many years organist and choirmaster, died 29 April 1946; Thomas Smith, a verger for 50 years, died 1 July 1925; and Philo Laos Mills JP and his wife Susan Neilson, of Ruddington Hall, born 26 February 1832, died 22 August 1905, a notable benefactor of the church.

Likewise, the Pagets have two almost identical and lengthy memorials, one on the path outside the west door. It reads:
HERE LIE THE REMAINS OF ELIZA WIFE OF CHARLES PAGET
OF RUDDINGTON WHO DIED MARCH 10

TH

1834 AGED 31 YEARS
ALSO OF THEIR INFANT CHILDREN
CHARLES WHO DIED DECEMBER 21

ST

1827 AGED 4 MONTHS
AND CAROLINE WHO DIED JANUARY 9

TH

1832 AGED 1 YEAR
"AND THIS IS LIFE ETERNAL, THAT THEY MIGHT KNOW THEE
THE ONLY TRUE GOD, AND JESUS CHRIST WHOM THOU HAST SENT"
ST JOHN CHAP 17

TH

VERSE 3

RD


THE ABOVE CHARLES PAGET AND HIS SECOND WIFE
WERE DROWNED AT FILEY OCTOBER 13

TH

1873
The other memorial is on a headstone propped against the wall opposite the west door, which also states:
This stone was removed from its former position over the family vault at the time of the Restoration of the Church in 1887
There are also several war graves in the churchyard. A letter dated 17 May 1962 from the Commonwealth War Graves Commission to Rev A C Shrimpton discussed the maintenance of the graves at 7s 6d per grave and lists the individuals from both World Wars as follows:
World War I – E W Fox 26/08/1916, R Wootton 16/03/1917
World War II – J S Fox 20/08/1943, P Sadler 04/02/1943, A F Meaden 29/06/1944, J R Roberts 12/12/1944, F G Heward 05/01/1946

The freestanding headstone for E W Fox reads as follows:
21385 PRIVATE
E.W.FOX
NOTTS. & DERBY REGIMENT
26TH AUGUST 1916 AGE 23
FATHER IN THY GRACIOUS KEEPING
LEAVE WE NOW THY SERVANT SLEEPING
On the south-western side of the church is the combined Vicarage Lane and Shaw Street cemetery. The Shaw Street cemetery was opened in 1882 and placed under the control of Basford Burial Board. In 1923 the cemetery flooded. Two years later, complaints were made concerning the damage done by dogs and young children. It was decided that a board should be erected at the entrance forbidding such activities and listing the cemetery's opening times.
The earliest name on a headstone is Charles Savage, died 6/11/1834 aged 53. The latest is Alan Faulkener, died 25/12/1991 aged 64. Two poignant headstones record that Arthur and Mary Daley who died in 1946 and 1939 respectively lost two sons in World War I – Harry, killed in France in 1916 aged 24, and Fred also killed in France in 1917 aged 29. In 1923 a third son, Reuben, died aged 33.
Army records also refer to a ceremony on Sunday 18 July 2004, honouring two 'Zulu War' soldiers.