Saundby St Martin
Monuments and Memorials
Chancel

In the north east corner of the chancel stands an alabaster monument commemorating John Helwys who died in 1599. It has a rectangular panelled table base with moulded edge; carved balusters framing the inscription (now detached); a strap work frieze with moulded cornice; above, a triangular pediment with central boss flanked by square baluster finials with pyramidal caps.
The inscription reads:
The inscription translates as 'This is a work of piety, not of pride, and the work of deep affection, for in their own lifetime they taught me how I ought to honour them indeed. Thus it behoves me to live, and them to die.'
Nave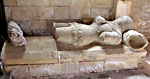 The badly damaged effigy of a knight in armour outside the chancel screen is presumably of one of the de Saundebys. It dates from the second half of the 14th century.
There are several badly worn floor slabs in the centre of the nave. The slab directly in front of the chancel screen has a brass inscription which reads:
A translation of the inscription is: "Here lies William Saundeby, Lord of the Manor of Saundeby, and Elizabeth his wife, who died May 12th AD 1418. The builders of this Church. May God have mercy on their souls, Amen."
On the south arcade wall is a marble monument to members of the Whaley family:
Beneath the Whaley monument is a brass tablet to Ronald Loxdale:
On the north wall of the nave is a brass tablet to Richard and Thomas Dawson:
Directly beneath it is a brass tablet to Frances, wife of Richard Dawson: