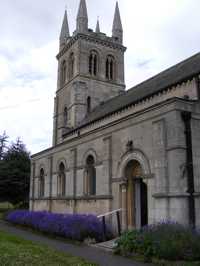 Scofton
St John the Evangelist
Newark Archdeaconry
Bassetlaw and Bawtry Deanery
Introduction
A church is recorded in existence at Osberton in Domesday Book. It is unclear whether this church lay on the site of the present building at Scofton or elswhere; research is ongoing.
The church of St John, Scofton-with-Osberton, was designed in the Norman style by the architect Ambrose Poynter, and built in 1833 as a private chapel to Osberton Hall. It was built on, or near, the site of Scofton Hall, which had been the manor house on Scofton Manor to the north of Osberton manor. The church was built by George Savile Foljambe as a memorial to his wife, Harriet Emily Mary Foljambe, née Miller, who died giving birth to her only child, a son, and contains a powerful memorial plaque to her memory. It was created a parish in 1876. It was restored and sympathetically modernised internally in 1970, the churchyard was re-landscaped, and the access altered to accommodate cars. It is in regular use as a parish church, and the Book of Common Prayer and the King James Bible are the basis for most services. Tucked away from the busy world, in open parkland with cattle grazing and wildfowl on the lake, it is a very peaceful place.
This church is currently being researched, a full entry will appear in due course.