Screveton St Wilfrid
Features and Fittings
Chancel
Misericords
| | |
| --- | --- |
| 'Winter' | St Wilfrid |
There are two misericords attached to seats in the chancel.
One, the older, is medieval – probably 15th century, carved to represent 'winter', and shows a man warming his feet at a fire.
Similar figures elsewhere have been used to represent 'February', and so this may be the only survivor from an original series of 12.
The second, added in 1908, represents St. Wilfrid.
Nave
Font
| | |
| --- | --- |
| Font | Detail |
Norman, dated to c.1170.
Bowl encircled with interlaced arcading, and a foliaged border above.
It is 3ft in diameter, and 2ft 3in high. It has a flat cover which is dated to c.1660.
The Arms of Charles II
| | | | |
| --- | --- | --- | --- |
| Royal Arms of Charles II | Detail | Detail | Detail |
Superbly carved royal arms, dated 1684.
They are carved in wood, with cherubs' heads and other ornamentation, and bear also the arms of Whalley, with the initials C.R. and dated 1684.
This was formerly fixed over the chancel arch and is now located above the partition between the nave and the tower.
South Aisle
Piscina

At the east end of the south aisle is a noteworthy piscina, its drain carved with eight leaves, meeting in pierced boss in centre.
It presumably dates from the 14th century, when the south aisle was added, but at some point was carefully filled up, and only uncovered – perfectly preserved – when the aisle was restored in 1884; it has been restored.
North Aisle
Parish chest

This chest, located in the north aisle is 6ft 9in. long by 18 in. wide, encircled by 21 iron bands.
It is variously dated to the 14th or 15th century by different sources.
Virgin Mary statue

The statue is located in the east window of the north aisle which was blocked up when the vestry was built.
Tower
A tablet, detailing the bequest made by John Hall in 1833, is attached to the north wall of the tower. It reads:

JOHN HALL, GENTLEMAN
YOUNGEST SON OF
HENRY AND MARY HALL
LATE OF SCREVETON
BEQUEATHED TWENTY POUNDS TO THIS PARISH
JANUARY 21

ST

1833
AND DIRECTED THAT ON CHRISTMAS DAY,
IN THE CHURCH, THE INTEREST BE GIVEN IN BREAD
TO THE POOR FOR EVER
THE CHURCHWARDENS AND OVERSEERS
OF THE POOR, FOR THE TIMEBEING,
ARE LEFT IN TRUST.
Ladder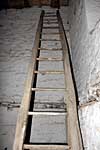 The tower contains a ladder in the 1st floor chamber (now not in use) that appears to be of pre-19th century date.