Screveton St Wilfrid
Monuments and Memorials
Tower
The Whalley memorial
Upper section
of monument

Effigy of

Sir Richard Whalley


Detail of Sir
Richard's effigy

Whale at Sir
Richard's feet
Lower section
of monument
First wife, Lora
and their 5 children
Second wife, Ursula
and their 13 children
Third wife, Barbara
and their 7 children
The most significant monument held in the church is the monument to Richard Whalley, his three wives and 25 children. It is located on the ground floor of the tower placed against the south wall, having been moved there from the chancel in 1881. Made from alabaster, the tomb dates from 1583. It shows the effigy of Richard Whalley with his feet on a whale and his head on whale's head, the family's crest. On the tomb each wife is shown with her children in the panels behind her.
Along the upper edge of the tomb is an inscription that reads:
Heare lyeth Richard Whallaye Esquier who lived at the age of 84 yeares and e'ded this life the 23 of Noveber 1583
The inscription running across the panels on the back of the monument reads:
Behold his Wives were number three :
Two of them died in right good fame :
The Third this Tomb erected she,
For him who well deserv'd the same.
Both for his life and Godly end,
Which all that knows must needs commend:
And they that knows not, yet may see,
A worthy Whalleye loe was he.
Since time brings all things to an end,
Let us our selves applye,
And learn by this our faithful friend,
That here in Tombe doth lye,
To fear the Lord, and eke beholde
The fairest is but dust and Mold:
For as we are, so once was he :
And as he ys, so must we be.
There are other monuments on the north wall of the tower.
At the west side of the wall is a monument to Margaret, daughter of Peniston Whalley (died 1680). The inscription reads: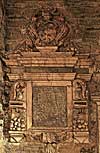 Vnder the midle of ye altar by her beloved
Mother lyeth Margaret dearest Daughter
of Peniston Whalley Esqr, the Entirely
Loving Wife of Tho. Hall, Rectr of this
Church, from whose Endeared Embraces she
was Taken in ye Beauty of Her Age (Dec. 10
1680, AEtat. 24) Leaving him ye comfortable hop'
of a Joy full Meeting where All Teares shall be
Wiped Away, with the Blessing of a Fair
Fortune for their Fairer Issue, son Ireland,
Daughters Mar'gret and Whalley. A person
She was of Prudent, Charitable, Louley
Conuersation, of Material Piety, Before
Her Death Professing Her True Faith,
Penitance and Charity, & Having Received
Absolution And ye Christian Viaticum With
Her Expiring Breath She Chearfully said
Lord Jesus Receive my Soul— Into Thy Hands
O Lord I comend my--------
2 Reu. 12.
Nearby is a tablet to Admiral Evelyn Sutton who died in 1817 aged 69 years. The inscription reads:

To the memory of
Admiral Evelyn Sutton
Who departed this life XI June MDCCCXVII
Aged LXIX Years
And whose remains are deposited near to this place

Also in the same vault
Roosilia
Widow of Admiral Evelyn Sutton
Who died IV January MDCCCXXIX
Aged LXXVII years.
Below the tablet is a monument to Mary Thoroton (died 1753). The inscription states:
TO THE MEMORY OF MARY
DAUGHTER OF Sr RICHARD LEVETT Kt MERCHANT OF LONDON
WHO DIED 5TH APRIL, 1753
SHE WAS FIRST MARRIED TO ABRAHAM BLACKBORNE OF LONDON
AND HAD ISSUE TWO SONS
LEVETT AND ABRAHAM
AFTERWARDS SHE WAS ESPOUSED
TO
THOMAS THOROTON ESQ OF SCREVETON
BY WHOM SHE HAD ONE SON
THOMAS THOROTON
THIS MONUMENT WAS ERECTED IN FILIAL GRATITUDE
BY HER SONS
LEVETT AND ABRAHAM BLACKBORNE.
At the east side of the south wall is a mural monument to Margaret Peniston Whalley who died in 1675. The inscription reads:


Hic jacet MARGARETA
PENISTONE WHALLEY Armigeri
Necnon servientis ad pacem Regis
D'ni CAROLI secondi
Electiq.primi Burgensis Burgi de NEWARKE
duper erecti maiore Aldermannis ipsoq.
Shaftburiensi cancellario contra conantibus
uxor Charissima
Georgi IRELAND filii et heredis
THOMAE IRELAND de Bewsey
Equitis Aurati
Filia unica
Quae quidem MARGARETA ex conjugo suo jam
Moestissimo quatuour suscepit filias quarum Ia
Maria et 2a PENISTON infantili actate obiere
prima hic sepulta altua apud Crofton Lancast. 3a Eliz
Et 4a MARGARET etiam nu supersunt matre pie lugentes
Quae certa Spe in Xto resurgendi post vitam DEO pia
Regi Ecclesiaeq fidam amicis benignam, Charitatis
Oceribus insignem tum suis tum omnibus maxime
desideratam plena coronae justitiae fide transacta animam
Pie et placide JESU DEO salvatori reddidit Sept 10
1675 Annum agens aetatis suae quinquagesimum
2. Tim. 4.7.8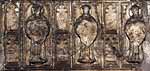 Chest tomb panel
Built into the west wall of the tower, beneath the west window, is a fragment from an alabaster chest tomb. It is a traceried panel with three angels holding coats of arms.
Floor stones
Two floor stones formerly located in the sanctuary:
Hic sunt
cunabula
in quibus
Thomas
et Maria con
-jux . filiu
Th

o

Whalley
sopitum
posuerunt
natu renatu
et denatu A

o


1628
et denuo
nasciturum.
Hic
deposuerunt
Thomas et Maria
Whalley
filiolam
Martham
Charu pignus
scientes cui
crediderunt
natam
et denatam
anno domini 1624.
A large floor stone, originally in the north aisle, has the arms of Ireland and the following inscription incised upon it:
HERE LYES THOMAS IRLAND
GEN. DESCENDED FROM
THE ANTIENT FAMILY
OF THE IRLANDS OF
HUT IN LANCASHIER,
WHO DYED OCTOBER
1669. AGED 76.
or he or none strict life did
supearrogate
for loyallty old age with celibate,
hoc pietatis ergo sculpi fecit
Margaretta Whalley
eadem stirpe Irlandorum progenita
Jan., 16, 1670, det dens nobis
lucent eternam. Amen.
William Sampey, who died September 16th, 1742, aged 39 years, and Mary, his wife who died November 1st, 1737, aged 33 years
Robert Sampey, who died March 6th, 1830, aged 58, and Mary his wife, who died November 27th, 1836, in her 90th year
Nave
There are four floor-stones, formerly in the chancel, at the east end of the nave, inscribed:
R.T. Ar. Obiit Jan. 21mo 1751.
Mary Thoroton,
October the 5th, 1753,
in the 64th year of her age.
THOMAS THOROTON
ARM:
Ob. May 9

th

1794;
AEtat. suae 71.
ROSILIA THOROTON,
VIDUA
Thomas Thoroton, Arm:,
Ob. April 12, 1823, AEtat:
suae 85.
A floor stone in the middle of the nave is inscribed:
M

rs

Marg

t

Kirkham
Dyed the 3

d

of March, 1749,
Aged 64 Years.
There is also at the west end of the nave, near the font, a damaged floor stone to the memory of Thomas Howitt, son of Penneston Howitt, who died July 17th, 174—.
South Aisle
Worn incised
floor stone in
the south aisle
Floor stone to
Thomas and
John Whalley
There is a worn incised effigy in alabaster at the east end of the south aisle. Godfrey (1907) provides a description:
'At the east end of the south aisle, until recently under-built with masonry so as to form a quasi altar-tomb, is a large incised slab, much worn, but probably dating from the middle of the fifteenth century, upon which are three figures, representing a gentleman in armour, and two ladies. There are no armorial bearings, and the inscription is effaced.'
Floor stones
Nearby is a large floor stone in memory of Thomas and John Whalley. According to Godfrey (1907), the barely legible Latin inscription reads:
Sub hoc lapide conduntur
Illustrium Virorum
Thomae et Johannis
Whalley.
Charae Reliquae
Quas exuit ille Sexto Non.
Maii Anno Do. 1637
Quas exuit hic quarto Iduum
Mensis Ju. An. Do. 1638.
Uterq. Coelebs
Laetas rediturae animae
Christique nuptias expectat.
Tantum est
Ampliora si quaeras, est ubi consulas.
Another floor-stone in the south aisle is inscribed:
Harriett Katherine Sutton, daughter of Evelyn Sutton, Esq., by Roosilia his wife was born July the eleventh, 1780, and died August the fifth, 1781. Also Charlotte Sophia, their daughter, was born February the eighth, 1789, and died March ye fourteenth following.
Next to the piscina is a cabinet containing a Book of Remembrance with names of people who have had their ashes buried in the Garden of Remembrance. The cabinet is in memory of Private Charles Parker Davies who was killed in 1942.
To the west of this, is a plaque in memory of the crews of two RAF aircraft who died in a mid-air collision above Screveton on 14 April 1944.
North Aisle
A floor stone bearing the following inscription on a small brass plate:
Here lyeth y

e

body of
Jane Wilson,
She departed this life
the 19

th

day of May 1721,
aged 10 years.
A worn floor stone in memory of 'Peter Best, Surgeon, late of Bulwell' who died 29 October 1847 aged 86.