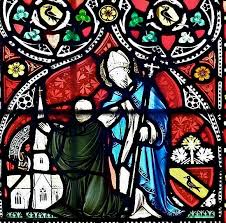 Sutton-in-Ashfield
St Mark
Newark Archdeaconry
Newstead Deanery
Introduction
A former mission church, St Mark's lay at the junction of Alfreton Road and Calladine Lane in the hamlet of Fulwood to the south-west of Sutton-in-Ashfield.
It was in built sometime between 1900 and 1916 and was still standing in 1977.
No picture of this church is known. The image on this page is a section of a stained-glass window (actually in Ramsgate Church) depicting the Victorian architect Augustus Pugin.
Research for this entry is incomplete. If you, or your group, would like to volunteer, please contact our Research Manager.