Sutton on Trent All Saints
Archaeology
Core fabric mainly C13th-C14th
South Chancel (Meering) chapel, early C16th
South elevation of
the Meering Chapel
Detail
Detail
Detail
Tower from
the south-west
Tower from
the west
Tower, C13th, though probably earlier at base and foundations, heightened late C15th-early C16th; north-west buttress late C15th-early C16th; south-west buttress, 1813; major repairs 1813, 1902-3
Significant Interior Features
Nave
Respond at west end of arcade contains, at the base, part of a re-used early grave marker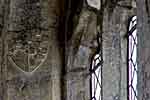 Clerestory added late C15-early C16; note arms of Meering (impaling an unidentified family) in reveal of second window from chancel arch on south side
Chancel
Piscina to right of altar
South Chancel aisle (Meering Chapel)
Further information on the interior of the Meering Chapel can be found on the Fittings page.
Five light lancet east window C16 with fragments of stained glass, including arms of Meering
Ornate piscina and armorial panels (now blank and uncoloured) C16
Carved screen (with arms of Meering), with loft/gallery early C16
Purbeck marble tomb C16
Castellated arcade pillar C16
South aisle
Two small double lancet windows C15th to right of porch and one triple lancet C14th to left all with fragments of medieval stained glass
Reveal for small lancet window at west end of the aisle includes part of a re-used early (late C12th/early C13th) grave marker, 71 cm long x 39 cm wide, to form lintel
C15th font with late C17th-early C18th carved tiered wooden cover
North aisle
One triple lancet C15th at west end, and three restored C15th triple lancets in north wall; triple lancet C13th with intersecting tracery at east end, with modern (1927) stained glass
Tower
Lower stages C13th; fourth stage late C15th-early C16th, with north-west buttress; south-west buttress, 1813
Tower arch C13th with medieval steep-pitched roof line visible on interior wall, probably also C13th.
The upper belfry stage of the tower contains a single truss of what appears to be an Elphick 'H', Pickford Group 1. variant viii, form bell frame. This is a rare design and the only example known in Nottinghamshire. Unfortunately, when it was examined in 2017 it was found to be unsuitable for tree-ring dating. The frame at Cold Waltham in Sussex, of comparable form, dated to the mid-C13th.
In the nave is a section of the former tower roof lead that is embossed with:
Medieval Cross Slabs

(1) Slab re-used as the internal lintel of the west window of the south aisle (now behind the organ). Incised design, round-leaf bracelet cross with ball at head of shaft; possible hint of emblem (shears?) on right. Base concealed.
(2) Part of slab re-used in base of western respond of south arcade, outer order on south side. Incised round-leaf bracelet cross, part of head.
Descriptions and drawings of the cross slabs courtesy of Peter Ryder.
Technical Summary
Timbers and roofs
| | | | |
| --- | --- | --- | --- |
| | NAVE | CHANCEL | TOWER |
| Main | Double tie beams on octagonal corbels with king posts and raking struts, principal rafters, side and ridge purlins above. Restored, largely perhaps 1932. | Restored C15th roof with medieval cambered tie beams above and later straight ties below, with struts to support the earlier ties; one has moulding. Ridge and side purlins, moulded rafters. | Large cross-ties with diagonal bracing, rafters, and timber wall plates. All probably 1902-3. |
| S.Aisle | C19th lean-to roof with C15th moulded tie beams, moulded ridge and foliate bosses. | Mering Chapel: panelled ceiling with moulded divides, probably contemporary with fabric, c.1525. | |
| N.Aisle | Lean-to roof with C15th cambered tie beams with struts, C14th corbels. | n/a | |
| Other principal | South porch: low pitch C15th roof with moulded ridge and flat cleft rafters. | | Support timbers to former upper belfry survive, probably late medieval. |
| Other timbers | Rood screen and loft divide the Mering Chapel from the south aisle, traceried lower panels, carved rail and pierced upper panels, all early C16th | | |
Bellframe
Upper bellframe: timber, single truss, Elphick 'H', Pickford Group 1.variant viii, form. Unique in Nottinghamshire, undated (and not suitable for dating by dendrochronology) but stylistically perhaps C13th.
Lower bellframe: cast iron, Pickford Group 8.3.A, John Taylor and Co., Loughborough, 1922.
Upper frame scheduled for preservation Grade 1; lower frame not scheduled for preservation Grade 5.
Walls
| | | | |
| --- | --- | --- | --- |
| | NAVE | CHANCEL | TOWER |
| Plaster covering & date | Not covered, open stonework. | Not covered, open stonework. | Not covered, open stonework; ringing chamber walls plastered and painted |
| Potential for wall paintings | None. | None. | None. Unlikely in ringing chamber. |
Excavations and potential for survival of below-ground archaeology
An archaeological watching brief was undertaken on excavations for ground-water drainage in the churchyard to the south of the nave and Mering Chapel in 2001. No report on the findings is available.
The fabric dates principally from the C13th to c.1525 with restorations of 1902-3 (tower), 1932, 1956-8 and into the early 1960s. The earliest work appears to be the lowermost courses of the tower which may be of C12th date; the body of the church is mainly C13-C16th with an added chapel, the Mering Chapel, on the south side of the chancel of c.1525. The tower is C12-C16th.
The churchyard is rectangular in shape with the church offset into the south-west corner. There are burials on all sides though all grave-markers have been cleared and are arranged ex situ around the perimeter.
The overall potential for the survival of below-ground archaeology in the churchyard is considered to be HIGH-VERY HIGH comprising medieval construction evidence, burials, and landscaping. Below the present interior floors of the church it is considered to be HIGH-VERY HIGH comprising medieval-C20th stratigraphy with post-medieval burials. The archaeology of the upstanding fabric is medieval and its archaeological potential is HIGH-VERY HIGH.
Exterior:Burial numbers expected to be average.
Interior: Stratigraphy under the entire building is likely to be medieval with later layers and restoration evidence. In the body of the church the stratigraphy is likely to be punctuated by medieval and post-medieval burials.