Weston
All Saints
Monuments and Memorials
Chancel
On the north wall of the chancel is a marble monument erected by the Rev. Paul Jenkinson in memory of his mother-in-law, wife and children: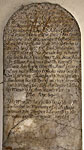 Near this Place lieth
ye Body of Mrs Prudence
Fiennes Relict of ye Honourable
Wm Fiennes Esq of Broughton in
Com Oxon She continued his Widow
43 years for Love & ye Sake of Children
She Marrid once & for Love & her Child's
Sake she marid no more & left one only
Daughter viz Judith (Sole Heiress) who is
Marrid to ye Revd Mr Paul Jenkinson
A.M. Rector of this Parish by whom
She hath had two Sons, & Six Daughters
viz: Olivia, Prudence, Judith Fiennes,
Olivia, Barbara, Camilla, Paul four of
wch are now living & Olivia was burid
Decbr ye 31st 1708 Olivia burid Janry ye 21st 17212
Barbara burid Dec ye 30th 17223 Camilla
burid May ye 20th 1724 She departed this
life March ye 15 Ann: Dom: 1729-30
Aet: Suae: 69
This Monumt is erected by ye Revd Mr
Jenkinson in Memory of ye Persons
deceased & in Honour & Regard to his
own worthy good Family
To the west of the Fiennes/Jenkinson monument is a worn marble and slate tablet in memory of the Rev John Brettle Cane who died in 1896:

TO THE GLORY OF GOD
AND THE EVER BELOVED MEMORY OF
JOHN BRETTLE CANE, M.A.
INCUMBENT OF PERLETHORPE, OLLERTON,
1855 TO 1862,
RECTOR OF TATTINGSTONE, SUFFOLK,
1886 TO 1896.
DIED TATTINGSTONE ON MAY 4TH 1896.
"HE BEING DEAD YET SEPARATED"

THIS TABLET IS PLACED HERE BY HIS
SORROWING WIDOW AND CHILDREN.
North Aisle
On the north wall of the north aisle is a slate table commemorating William Hunt (1929):

THIS MEMORIAL
IS PLACED HERE
BY HIS FRIENDS IN THE PARISH
OF WESTON AND ELSEWHERE
IN MEMORY OF
WILLIAM PHILIP HUNT
OF THE LODGE, WESTON,
WHO DIED 10TH DECEMBER, 1929,
AND IN GRATEFUL RECOLLECTION
OF HIS GIFT OF £2,000
TO AUGMENT THE STIPEND OF
THE INCUMBENT OF THIS PARISH
AND TO ENABLE THE BENEFICE
TO REMAIN SEPARATE AND DISTINCT
South Porch
There are two floorstones in the porch.
A damaged floorstone in memory of Francis Kirkland (1778) reads:
Here Lieth the Remains
of Francis the Wife of
JOSEPH KIRKLAND
who departed this Life
March the 10 In the
Year of our Lord 1778
In the 65th Year [...]
Likewife [...]
Grandson [...]
Francis K[...]
departed [...]
of March 1778
Aged 16 Months
Another floorstone commemorates Joseph Kirkland who died in 1754:
HERE
Lyeth the Body of
Joseph Kirkland who
Departed this Life
May the 7th 1754
in the 60th year of his
age