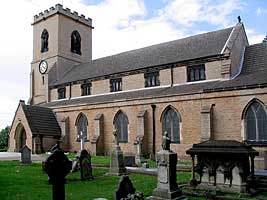 Bulwell
St Mary the Virgin and All Souls
Nottingham Archdeaconry
Nottingham North Deanery
Introduction
The parish of Bulwell was once a separate settlement on the river, which was incorporated into the borough of Nottingham in 1877.
The first recorded reference to a church in Bulwell is in 1171, however there is a strong tradition which suggests that up to four different churches have stood on this same hill since Saxon times.
The medieval church was greatly neglected over time, and in 1849-50 H.I. Stevens of Derby designed a replacement building which was built on a site about sixty yards from the old church. It included a chancel, nave, aisles, and an embattled west tower, and cost £3,000 to build. The church was built by James Hall of Nottingham.
Features of interest include the altar, which is of Derbyshire alabaster, with a reredos of Italian alabaster depicting the crucifixion; the organ, which was rebuilt, with additional pipes, in 2006 by Henry Groves & Son of Nottingham; and the pulpit, which is made of Caen stone.
The Saint George Chapel has a reredos and altar carved by Robert Thompson the 'Mouseman' of Kilburn, North Yorkshire. Above the altar is a new Christus Rex in memory of a long standing churchwarden. This part of the church is a prayer corner for the Armed Forces and for those who have died.
At the east end of the north aisle is the Lady Chapel.
Three stained glass windows on the north wall are modern, designed by a local artist, Michael Stokes. The centre window commemorates the miracle of Dunkirk and the adjacent colours laid up are those of the Nottinghamshire branch of the Dunkirk Veterans Association.
The tower contains eight bells in an iron frame and an illuminated clock made by G W Cope of Nottingham.
Particular thanks to Tim Southall and Andy Nicholson for research on this entry
and to Geoff Buxton for the photographs
Work has been done on this entry but some pages are incomplete. If you can add information to help complete the entry, please contact our Research Manager.