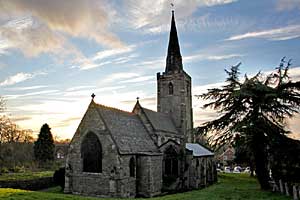 Sutton Bonington
St Michael
Nottingham Archdeaconry
West Bingham Deanery
Introduction
Sutton Bonington has two churches. St Michael is the church of Bonington, and it is larger than St Anne's of Sutton. It is not mentioned in Domesday; the earliest part is the 13th century arcade to the south aisle.
It consists of a nave of four bays with clerestory, chancel, aisles, south porch and an embattled, Perpendicular west tower with a lofty spire 135 feet high, and a clock and six bells (one named Queen Elizabeth, 1602). The south aisle has circular piers with moulded capitals, the north aisle octagonal piers with leaf capitals. The arches are identical each side. Round the base of the piers are stone seats, a foot high. Aisle windows are 14th century with ogee reticulation. The clerestory is 15th century.
The chancel was re-built entirely in 1878 when a new organ was installed. Nave and aisle roofs were replaced in the 19th century and the pitch of the older roof is visible on the east wall of the nave.
A further restoration took place in 1895 led by W S Weatherley, formerly assistant to G G Scott Junior. The oak rood screen and pulpit were added at this time.
The church has stained glass windows by Kempe: the window in the east wall is 1897, and in the north wall 1901.
The 14th century font is interesting. It is of stone, octagonal, with quatrefoil panels and three projections for book, salt and candle.
This church is currently being researched, a full entry will appear in due course.