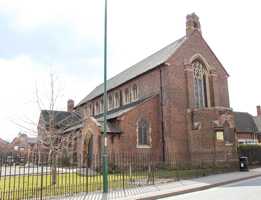 Wilford (North)
St Faith
Nottingham Archdeaconry
Nottingham South Deanery
Introduction
This church replaced an iron mission church erected in 1899. It was consecrated in October 1915, although incomplete; orientated north to south.
The architects were Sutton & Gregory. They provided a five-bay nave with octagonal baptistery, north and south aisles and transepts, clergy and choir vestries on the north side of the 2-bay chancel, an organ chamber and a turret with one bell by J Taylor. They used local bricks with stone dressings for the exterior and Bath stone for the arcades, piers and arches.
The north side was not finished, only boarded up. The church was not completed until 1939, when an ambulatory aisle was added by F Gregory (architect). Broadhead & Royle, architects, planned the removal of the oak screen, erected 1926, from the chancel to form the Lady Chapel in 1965.
A stained glass east window was in memory of the first vicar, Albert Edward Barnacle, who stuck firmly to his task. The pulpit was in carved oak on stone. Also in oak were the holy table, the reredos, bishop's chair, credence table, lectern and prayer desk. The font was octagonal, of white stone with granite corner pillars, carved panels and an oak cover.
St Faith's became redundant and was closed as a Church of England church in 1983. It was later re-opened as the Elim Church Centre, when alterations were made. Other work done in 1986/7 included further internal changes, toilet block extension, re-siting of an entrance, car park and landscaping.
Research for this entry is incomplete. If you, or your group, would like to volunteer, please contact our Research Manager.