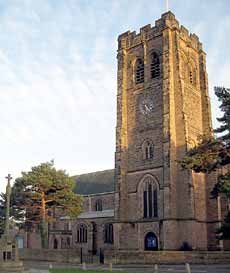 Worksop
St Anne
Newark Archdeaconry
Bassetlaw and Bawtry Deanery
Introduction
St Anne's Church opened in 1912. It is built in the neo-Perpendicular style, mainly from stone from Darley Dale. It was designed by the architects Paley and Austin.
The foundations were laid in the year of the Coronation of King George and Queen Mary. Their heads are carved on the north arcade of the nave.
The Lady Chapel was enclosed in 1922 by beautifully carved oak screens with panelled walls and oak reredos. Both the east and the west end windows are beautifully decorated with stained glass.
The west end of the church has benefited from a modern reordering project.
This church is currently being researched, a full entry will appear in due course.