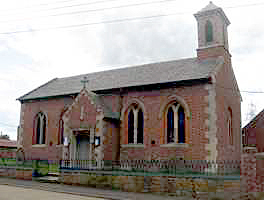 Besthorpe
Holy Trinity
Newark Archdeaconry
Newark and Southwell Deanery
Introduction
Holy Trinity Church was built in 1844 to replace an old chapel-of-ease, which had been built c1535 for South Scarle St Helena. This chapel was transformed into a school in c1734, and subsequently fell into ruins during the 18th century and was demolished.
Constructed of red brick with stone quoins, it consists of a nave, porch in the middle of the east side, round apse, bellcote with one bell at the north end and chancel added in 1898 when restoration took place.
The church building is unusual in being aligned north to south, the altar being at the south end.
A pair of marbled classical pillars at the west end support the bellcote. A brick cross adorns the wall above the pulpit. There is a simple tie-beam roof and plain Gothic windows.
The bellcote was refurbished in 2009 and a new roof installed.
In 1984 Holy Trinity became part of the combined parish of South Scarle, Girton and Besthorpe and subsequently part of the East Trent Group.
Particular thanks to Rowan Gillam-Hull for research on this entry.
Work has been done on this entry but some pages are incomplete. If you can add information to help complete the entry, please contact our Research Manager.