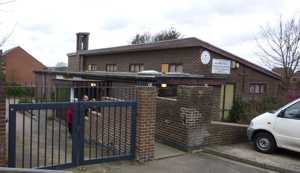 Bestwood
St Philip
Nottingham Archdeaconry
Nottingham North Deanery
Introduction
Built in c1975, St Philip's is a small brick building with sloping roof bearing a single bell turret and a later extension. It has a nave/hall, sanctuary, entrance lobby, vestry, kitchen and toilet. A metal plaque on the sanctuary wall reveals that the extension was dedicated by Patrick, Bishop of Southwell on Sunday 13th October 1996.
There is one large and three small stained glass windows in purple, blue and green. Seating is on individual wooden chairs. Several wooden features in the sanctuary were made by a craftsman from Cromford. They include the altar table, two chairs, lectern, music stand, font (with modern pottery bowl), a cross, candle holder and two churchwardens' staffs.
On the walls are five fabric wall hangings in applique and collage.
Sadly, despite security precautions, the bell was stolen at Easter 2011.
Research for this entry is incomplete. If you, or your group, would like to volunteer, please contact our Research Manager.