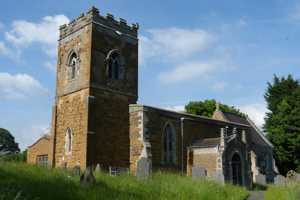 Broughton Sulney
(Upper Broughton)
St Luke
Nottingham Archdeaconry
East Bingham Deanery
Introduction
St Luke's is a small village church built of brown ironstone and has a heavily weathered appearance. There is no mention in Domesday Book of a church here but there is evidence in the porch for a Norman building in the form of a fragmentary tympanum with a crude figure in the right-hand corner.
There were originally two aisles but the south was demolished when the porch was constructed in 1733. However, one bay of this aisle survives, built into the wall, giving a date of c1200. The north arcade is of the 13th century though the rest of the aisle was rebuilt in 1855, as was the chancel. The west tower is also of the 13th century. There is a 14th century font with some carved tracery. In the churchyard are many fine 18th century slate head stones, typical of the 'Belvoir' school of carving.
This church is currently being researched, a full entry will appear in due course.