Clarborough
St John the Baptist
Bells
There are six bells and a service bell. The ring is in the key of F sharp.
Inscription
Size
Weight
1

IHESVS BE OVR SPEED 1608

26.75"

3.1.18 cwt

2

JOHN TAYLOR AND CO * FOUNDERS * LOUGHBOROUGH * 1988 *

28.625"

4.1.26 cwt

3

CAST BY JOHN WARNER & SONS LONDON 1873
THE PARSON AND HIS PEOPLE
GAVE ME
A.D. 1873

30"

5.0.12 cwt

4

JAMES HARRISON FOUNDER BARTON 1822

33.875"

6.0.22 cwt

5

JESUS BE OVR SPED

37.5"

9.0.18 cwt

6

MY ROARINGE SOUNDE DOTH WARNING GIVE THAT MEN CANNOT HEARE ALWAYS LIVE 1621

39.125"

9.1.16 cwt

Service bell

SANCTE GABRIEL ORA PRO NOBIS

30.5"

c.5 cwt
The service bell was formerly the treble of three by an unknown medieval York founder c.1450.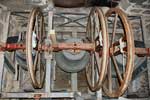 The treble (1608 bell) is the work of Henry II Oldfield and was formerly the treble at Ragnall church. The Warner's bell (1873) was formerly at Harston, Leicestershire. The fifth is puzzling and although evidently by a Nottingham founder is unlike all others, the inscription is also inverted and may have been cast by an apprentice; it dates from the period 1600-1650. The tenor (1621 bell) is by George I Oldfield and was formerly the tenor of three at Plumtree.
In 1740 there were 3 bells recorded.