History material - Every Building Tells a Story
Timeline

Just as fashion changes today, so it was in the past and we can approximately date different parts of a church by looking at the style, especially windows, doors, arches, mouldings, and decoration.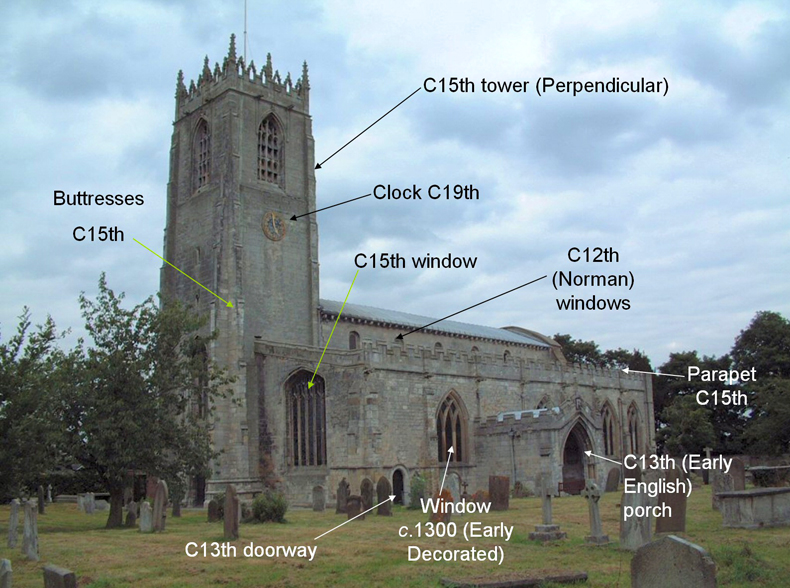 This is Blyth church as an example. You can see at a glance that it has features of different styles ranging from the Norman period (12th century) through to the Perpendicular (15th century).
Here are some of the commonist styles of architecture in chronological order (they are in Nottinghamshire unless otherwise stated):
(Click on the images to enlarge them)

Anglo-Saxon (600-1100*) - only a small number of churches are Anglo-Saxon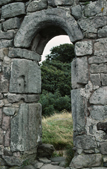 Heysham, St Patrick, (Lancs) (800 - 850)

At Heysham St Patrick you can see the jambs (sides) of the doorway are composed of massive stones laid alternately upright and flat in a style called 'long-and-short' work. This is very characteristic of Anglo-Saxon architecture.

Barton-on-Humber tower windows (950 - 1000)

The stones go all the way through the wall and are crudely shaped. The two different styles - round-headed, and triangular-headed - are both typically Anglo-Saxon. Look at the vertical 'baluster' shafts that separate the windows into two with their barrel-like shape and simple carving.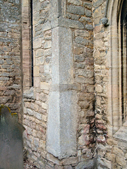 Long-and-short quoins at Wilsford, Lincolnshire:
This is a typical example of Anglo-Saxon 'quoins' or cornerstones
The tower at Rothwell, Lincolnshire

A simple tower with a round-headed west doorway,
and tall, round-headed double belfry lights at the top.

Tower at Wharram-le-Street, Yorkshire Wolds
Similar to Rothwell (left), and of similar date.

Escomb, Durham

The tall, narrow chancel arch made of stones
that pass right through the wall. This is typical
of Anglo-Saxon arches and dates from the early 8th century.
Escomb is arguably the most complete
Anglo-Saxon church in England.

Detail of the Wharram-le-Street belfry windows

Norman (1070-1180**)
arches:
Norman architecture is characterised by heavy, semi-circular arches, powerful geometrical types of surface decoration, deeply splayed windows, and thick walls.
Worksop Priory - plain towers, central window, and west doorways - late 12th century
Winkburn - south doorway
with carvings of mythical animals - about 1150 in date
Tickencote, Rutland, chancel arch -
richly decorated, dating from c.1160-70
Southwell Minster upper tower
windows and decoration
Much Wenlock Priory Shropshire:
overlapping arches in the chapter house.
Kilpeck, Herefordshire, doorway
of c.1130-35 - exceptionally rich decoration.
Edingley - a typical Norman west doorway.
carvings:
Kilpeck, Herefordshire: hound and hare c.1130-35.
Kilpeck, Herefordshire, on the doorway
- depicting a human face sprouting leaves. c.1130-35.
Eardisley, Herefordshire: the font showing two knights fighting. About 1130.

Early English (c. 1180–1270)
The most important change in the Early English period was the invention of the pointed arch. Compared with the rounded arch, the pointed arch looks more elegant and, more importantly, better supports the weight of the stonework above it. Buildings look 'lighter' than before. From this point onwards architecture is called 'Gothic'.
| | | |
| --- | --- | --- |
| Upton nave arcade | Thoroton - the arches on the right are of about 1200 and round-headed, whilst to the left they are Early English, pointed, dating from c.1250. | Brinkburn Priory, Northumberland- pointed arches, 8-sided columns, and three levels of pointed windows, all dating from c.1190-1220. |
Thurgarton Priory
tower and west front: everything is 13th century- note especially the tall, thin windows with pointed heads called 'lancets'.
Southwell Minster:
east end, about 1234 - compare this with Brinkburn Priory (above).
Sibthorpe, the west tower: a simple 13th century tower with tall buttresses and few openings
Holy Island, St Mary, Northumberland: a simple east end with three plain pointed ('lancet') windows and thin buttresses
Thurgarton Priory west doorway dating from c.1230
South Leverton: carvings of 'stiff leaf',
a form of decoration frequently found
in the 13th century.

Early Decorated (about 1280-1300***)
The change from Early English to Decorated is most easily seen in windows. The basic pointed ('lancet') form often remains but with simple geometrical designs above.
| | |
| --- | --- |
| Southwell Chapter House: about 1290 showing early 'geometrical' tracery above 'lancets' in the window | Howden Minster, East Yorkshire: three different styles of early 'geometrical' window, all dating from the same time, c. 1270. |

Decorated (c. 1270–1360)
The Decorated period is characterised by more complex window designs and the love of the 'ogee' or double 'S' shape. Doorways, windows, buttresses, and decoration all appear lighter than before.
Skipsea, East Yorkshire: 'Reticulated' window tracery of the early 14th century.

South-Leverton, the north

doorway with its typical 14th century 'ogee' top, which forms a double 'S' shape

Low Marnham, the south dooway with an elaborate 'ogee' top
Fownhope, Herefordshire: 'ballflower' decoration, typical of the 14th century
Cromwell - window showing 'curvilinear' tracery (the stonework inside the window), typical of more advanced Decorated period work, c. 1320.
Hawton, the east window, 'Flamboyant' tracery of about 1330.

Perpendicular (c. 1360–1540****)
The Perpendicular period is characterised by a much simpler style of architecture with an emphasis on the vertical elements such as tall arches, high towers, and window tracery with strong vertical 'mullions' (the stone uprights).
Southwell Minster
west window: note the stong vertical
shapes in the window style

Foston-on-the-Wolds, East Yorkshire: a typical Perpendicular east window in a parish church, dating from about 1450.
Snarford, Lincs, the 8-sided font with
a bold face and coats-of-arms.
East Markham, the tower arch. Perpendicular arches are often very high with shallow, pointed tops.
Lambley: the nave and chancel both have
typical large 15th century windows.
Cromwell tower: dated to c.1427. The
battlemented parapet on top is typical of this period.
Bishops Nympton, Devon: the tall west tower has four stages, each divided by a horizonal band of stone. It is typical of an impressive 15th century building.
Egmanton: a much simpler west tower in a small, rural parish church, also dating from the 15th century.

Late 16th century (c.1540 - 1610)
| | |
| --- | --- |
| Carlton-le-Moorland, Lincolnshire: large, square-headed, and very plain windows dating from a late 16th century rebuilding. They look like 'domestic' windows as might be found in a country house of this period. | Carlton-le-Moorland. West doorway- typical of Tudor architecture of the later 16th century. |

17th century (1600s)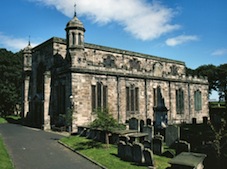 'Classical revival': Berwick-on-Tweed (1650). Very few churches were built
in this period and the style here is a complex mixture
of late Gothic and Classical (Roman and and Greek style).

18th century (1700s)
By the 18th century the Classical revival style was in fashion and churches were mostly built with round-headed windows and doors, copying ancient Roman and Greek styles. Note the use of cheaper brick as well as stone in buildings of the 18th century.
| | | |
| --- | --- | --- |
| West Wycombe, Buckinghamshire: c. 1765-70 'Georgian' style | Sunderland, Holy Trinity: brick, 'Georgian', dating from 1719 | Ossington: 1782-3, built of fine stone. |

19th century / Victorian
The 19th century saw a revival of medieval styles. Everything from Norman to the Perpendicular was copied but the favourite was the Decorated Gothic (14th century) which appears in numerous churches of this period and in restorations of earlier churches.
'Greek revival': Milton Mausoleum of 1832 by Sir Robert Smirke who built the British Museum.
'Gothic revival': Moorhouse of 1861 (note the
similarity to the Early English east windows)
'Gothic revival': Clumber Park (1889):
an elaborate 'estate' church.
'Gothic revival': Hoveringham (1865). Typical of many hundreds of small churches, built with brick and stone, the style echoing the medieval past.

20th century
Early 20th century churches often still copy gothic forms, and sometimes those of Italy and France, but the later 20th century and the 21st century saw a move away from these traditional kinds of building. Experimentation with concrete, brick, glass, and aluminium produced striking new designs.
Ravenshead, St Peter (1972) - concrete- modern architects experiment in bold new designs and materials

Worksop, Christ Church 1992. Simple windows
and doors offset by the bold use of the angular roofs.
*Anglo-Saxon dates are given as 600-1100 because the Anglo-Saxon building style sometimes carries on after the Norman Conquest when it is more properly known as 'Saxo-Norman'.
GLOSSARY OF TERMS
Ballflower - a globular, three-petalled flower with a small ball in the middle; popular in the early 14th century
Baluster shaft - a short stone pillar in the centre of a window
Buttress - a masonry or brick support to give a wall additional strength
Classical - the style of architecture found in ancient Greece and Rome
Curvilinear - a type of compound, undulating tracery found in the 14th century (Decorated period)
Flamboyant - a further developed type of Curvilinear tracery, sometimes very complex in shape
Geometrical - window tracery with circles or regular designs typical of the late 13th century
Georgian - architecture commonly built during the reigns of George I - III (1714-1820)
Gothic - architecture using pointed arches; in England this first becomes common around 1200
Jamb - the vertical side of an arch, window, or doorway
Lancet - a thin window with a pointed top, typical of the 13th century Early English style
Mullion - vertical or 'upright' stones (or wooden posts) in a window
Ogee - a double curve made up of an 'S' or an inverted 'S'; very popular in the Decorated period
Quoins - the cornerstones of a wall or opening such as a window or doorway
Reticulated - a 'net' like shape in window tracery formed by repeated ogee shapes
Revival - the copying of earlier styles of architecture, common in the 19th century
Romanesque - Norman architecture, between about 1170-1190
Tracery - the decorative stonework inside a window, dividing it up into shapes
Transom - horizonal bars of stone (or wood) in a window