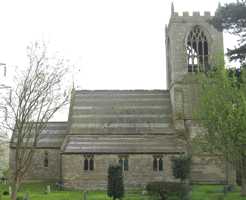 Dunham on Trent
St Oswald
Newark Archdeaconry
Bassetlaw and Bawtry Deanery
Introduction
Henry I (1100-35) gave Thurstan, Archbishop of York, the church at Dunham. Of the early church only the tower, with its very large Perpendicular windows and five bells, survives.
In addition the building consists of a chancel, nave and north aisle. It is of ashlar-faced stone in the Decorated style with diagonal buttresses, battlements and pinnacles.
It was rebuilt in the late 18th Century after severe flooding caused so much damage. The new church was opened, but never dedicated, in 1806. It was finally dedicated on 1st October 1862 after much rebuilding by T C Hine, including the nave (except for the south wall of 1805). A north aisle was added and about 100 years later furnished as a Chapel of Our Lady. At that time the oak choir stalls in the chancel were cleaned up and removed to form the seating in the nave.
At the end of the 18th Century the Archdeacon of Nottingham, Sir Richard Kaye, employed a water-colour painter named Samuel Hieronymus Grim to make drawings of several churches. The drawing he made of St Oswald's survives in the British Museum.
Particular thanks to Hillery Harrison for research on this entry and to Geoff Buxton for photographs.
Work has been done on this entry but some pages are incomplete. If you can add information to help complete the entry, please contact our Research Manager.