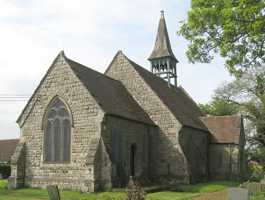 Eaton
All Saints
Newark Archdeaconry
Bassetlaw and Bawtry Deanery
Introduction
The church stands on an elevated site formerly occupied by a Norman edifice which was razed to allow for the re-building. It consists of a chancel and nave, with vestry, north porch and a bell turret containing one bell.
The current church was built in 1860 by G Shaw of Manchester at the expense of H Bridgeman-Simpson of Babworth Hall. Steetley stone was used to construct the church in Decorated style. Shaw also provided the stained glass, except for the east window depicting the Transfiguration which is by J R Thompson of Southwark.
There are no features older than the building of the current church, except for a piscina and an 18th Century monument in the vestry.
A small steeple was erected in 1992 at a cost of £12,000. A nave wall and a window in the west wall were severely damaged by a storm in 1998, but the funds required for repairs were quickly raised.
Thanks to Tim Southall for research on this entry and to Judith Asquith for photographs
Work has been done on this entry but some pages are incomplete. If you can add information to help complete the entry, please contact our Research Manager.