Hucknall St Mary Magdalene
War Memorial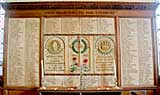 The War Memorial is located in the Lady Chapel and lists the names of all parishioners who gave their lives in the First World War.
Left-hand panel
ADLARD, ARTHUR
ALLCOCK, JOSEPH E.
ALLCOCK, WILLIAM H.
ALLEN, ARTHUR
ALLEN, GEORGE
ALLEN, STEPHEN
ALLWOOD, LUTHER
ANDREWS, LEONARD A.
ANSTEY, REGINALD
ATKINSON, LEONARD H.
ATKISS, BERTIE
ATKISS, THOMAS
ATTERBURY, JAMES
BABBS, ALBERT
BAGNALL, HENRY
BAGUELY, FRANK
BAILEY, ALFRED M.
BAILEY, LUTHER
BAILEY, WILLIAM
BALL, ISAAC
BALLARD, JOHN GEORGE
BAMKIN, CARL J.
BANNER, ROWLAND
BARKBY, ARTHUR B.
BARKE, EZRA
BARROW, WILLIAM
BASS, HAROLD
BATES, BENJAMIN
BEECROFT, THOMAS
BELCHER, FREDERICK
BENNINGTON, FRED
BETTRIDGE, ERNEST

BETTERIDGE, WILLIAM H.
BIRD, SAMUEL
BIRD, THOMAS GEORGE
BLACKMORE, THOMAS H.
BLAKE, JOHN HORACE
BODSWORTH, RICHARD
BONNINGTON, WILLIAM
BRACKNER, WILLIAM AR.
BRAMLEY, THOMAS F.
BRASEBY, JOHN EDWIN
BRITTON, ROBERT
BRODIE, ALAN
BROWN, ARTHUR
BROWN, J. AMBROSE
EVANS, WILFRID

BROWN, WALTER
BROWN, WILLIAM
BROWNLOW, BERNARD
BULLIN, FRANCIS JOSEPH
BULLIN, HENRY JOHN
BURGIN, WILLIAM ARTHUR
BURKE, THOMAS
BURMAN, HERBERT PEET
BURTON, CORNELIUS
BURTON, GEO. T. H.
BURTON, J.
BURTON, WILLIAM
BYWATER, HENRY
CANHAM, ROBERT MORLEY
CARPENTER, ERNEST
CARTER, SYDNEY C.
CASH, JOHN LEWIS
CAUNT, JOSEPH H.
CHADBOURNE, NATHAN
CHADPUND, WILLIAM H.
CHALLAND, WILLIAM
CHAPMAN, WILLIAM ED.
CHAPPLE, GEORGE HENRY
CHESTER, SANDFORD FRANK
CLARKE, ARTHUR
CLARKE, ERNEST
CLARKE, HENRY
CLARKE, STEPHEN
CLAYTON, ARTHUR
COLEMAN, GEORGE EDGAR
COLLINS, SAMUEL WM
COOPER, RICHARD
COPE, WILLIAM
COUZENS, CHARLES
COWLEY, ERNEST
CRITCHLEY, JOHN
CROCKETT, JOSEPH
CROFT, ALBERT NORTON
CUTTS, JOHN T.
DABILL, WILLIAM
DAWKINS, ROBERT H.
DEAKIN, HENRY
DENNIS, THOMAS BIRD
DEVONSHIRE, WALTER E.
DEXTER, NAHUM
EDWARDS, L. ARTHUR
ELLIOTT, WILLIAM
Centre panel (top left)
EDWARDS, HARRY
GOODYEAR, FREDERICK
GOSS, ALBERT
GRAINGER, GEORGE
GRAY, WILLIAM
GRIFFITHS, ALBERT H.
GRIFFITHS, BERT
GRIFFITHS, CHARLES H.
HALLAM, BILL
HARDSTAFF, ARTHUR E.
HARDY, CALEB JOHN

HARDY, GEORGE
HARE, WILLIAM
HARRIS, WILLIAM BUCKLEY
HARRISON, WILLIAM H.
HARLEY, ANTHONY J.
HARLEY, JOSEPH
HARTWELL, FRANK
HARVEY, ARTHUR
HATFIELD, GEORGE
HAYWOOD, H.
HAYWOOD, JOSEPH
Centre panel (top right)
HORTON, LEONARD
HOULDSWORTH, J. GORDON
HUFTON, JOHN ERNEST
HUFTON, OWEN
HYDE, FRED A.
JOHNS, FREDERICK
JOHNSON, ARTHUR
JOHNSTONE, THOMAS
JOYNER, HAROLD
KENDALL, ARTHUR
KIDDY, FRANK

KIDDY, SAM
KING, EDWIN
KING, THOMAS
KIRK, ERNEST
KNIGHT, FREDERICK RD.

KNIGHT, MAJOR E. V.
LAKIN, WILLIAM
LAMB, JOHN
LEE, HORACE W.
LEE, STEPHEN
LILLEY, SAM T. J.
Centre panel (centre)
HALLOWED IN CHRIST

To the

MEMORY

of all the gallant men of this Parish

who fell in

THE GREAT WAR

for the freedom of the World

1914. + 1919.

They shall yet stand

BEFORE THE THRONE

an exceeding great army and

in that last muster

there shall be found these

OUR OWN BELOVED
Centre panel (bottom left)
LOACH, HENRY
LOWE, WILLIAM
MACHIN, GEORGE
MACHIN, JOHN W.
MASON, ALBERT
MASON, CHARLES
MASON, HENRY

MAY, CHARLES WM. ADEY
MEAKIN, JOHN WILLIAM
MEE, BERT
MELLOWS, SAM
MILLS, GEORGE
MILLS, WILLIAM E.
MITCHELL, CHARLES
Centre panel (bottom right)
MITCHELL, CLARENCE
MOORE, THOMAS WILLIAM
MOORHOUSE, HAROLD
MORECROFT, JOSEPH MYRAN
MORRIS, THOS EDWARD
MORRISON, WALTER
MURFIN, HAROLD

MURRAY, DAVID PIRIE
NEWBERRY, THOMAS
NEWBOLD, CHARLES
NICHOLLS, JEREMIAH
PARKER, GEORGE STANLEY
PARKER, JOHN CLIFFORD

PARKER, JOHN
Right-hand panel
PARSONS, ALEX
PARSONS, HARRY
PASCALL, WILFRED WILLIAM
PECK, JOHN GEORGE
PEEL, JAMES W.
PEGG, WILLIAM
PETERS, KERSHAW
PHELPS, WILFRED JOHN
PICKARD, JOHN THOMAS
PORTER, RICHARD
RADFORD, SIDNEY
RANDLE, SIDNEY
RAYNOR, HERBERT W.
REID, ALEX
RICHARDS, GEORGE
RILEY, PERCY
ROBERTS, FRANK
ROBINSON, FRANK
ROE, JAMES HERBERT
ROOME, JOHN
ROSE, ARTHUR
SAXTON, CYRIL
SAXTON, ERNEST WILKINSON
SHAW, HARRY
SHELDON, PERCY
SHELDON, REGINALD H.
SHELDON, WILLIAM FOLEY
SHELTON, SYDNEY
SHERRARD, ALBERT
SLANEY, HAROLD
SMALLEY, THOMAS
SMITH, HENRY
SMITH, JAMES WILLIAM
SMITH, STEPHEN
SMITH, WILLIAM
SPRAY, JOHN WILLIAM
SPRING, HAROLD ALBERT ARDEN
STAINFORTH, WILFRED THOMAS
STARR, JOHN
STEER, JAMES
STRAW, ERNEST
STUBBS, CHARLES
SUMMERS, JOHN WM.
SUTTON, HENRY
SWAIN, JOHN
TAYLOR, BERNARD
GELSTHORPE, GEORGE F.

TONGE, HARRY
TUDBURY, JOSEPH
TUDBURY, WILLIAM
TURTON, WILFRED
VARLEY, ISAIAH
VERE, LANCE
VICKERS, ANDREW
WAGG, AMOS
WALKER, AMOS
WALKER, JOHN DENZIL
WALTERS, THOMAS
WARD, JOHN
WARD, MICK
WARDALL, HORACE
WASS, TOM
WATSON, ALFRED
WATSON, CHARLIE
WELBOURN, JOHN WM.
WEST, GRANVILLE
WESTON, WILLIAM
WHEAT, JOHN WILLIAM
WHITE, THOMAS HENRY
WHYATT, PERCY
WHYATT, RAYMOND
WHYATT, SAMUEL
WILLETT, FRANK LESLIE
WILLETT, CHARLES DOUGLAS
WILLIAMS, MATTHEW
WILMOTT, SIDNEY
WILSON, ARTHUR
WILSON, W. E.
WOOD, JOHN
WOOD, JOHN HENRY
WOOTON, ERNEST
WOOTON, LEONARD
WORLEY, GEORGE
WORRALL, ARTHUR
WORRALL, OLIVER L.
WORRALL, THOMAS M.
WORRALL, THOMAS
WRIGHT, GEORGE
WRIGHT, JOHN
WRIGHT, JOHN THOMAS
FIDLER, FRANK
FAIRFIELD, JOSEPH
FOSTER, GEORGE
GRANGER, GUY C. E.
Below it is a case which houses the book listing parishioners who died in the Second World War.
In the churchyard, near the south transept, is a memorial to employees of Hucknall Co-operative Society who died in World War I: