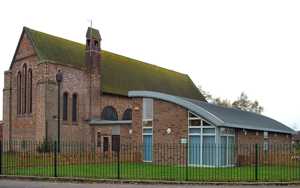 Ollerton
St Paulinus
Newark Archdeaconry
Newark and Southwell Deanery
Introduction
St Paulinus' Church is situated in Church Circle in the town of New Ollerton. It is reached by proceeding along Briar Road from Forest Road, which is the main thoroughfare through the centre of New Ollerton.

The church was constructed in 1931 at the behest of the Butterley Company, who were local mineowners. It was dedicated to St Paulinus, who had been active in converting heathens in the area north of the Trent and was said to have converted Edwin, King of Northumbria. The Saint is commemorated in the stained glass window above the altar.

The church forms part of the first phase of the construction of New Ollerton as a mining town following the sinking of a new shaft in 1922, which led to a large influx of workers, particularly from the North East. It was situated in Church Circle, very near to the centre of the new settlement, and in one of the highest points of the town. It was constructed in the neo-Romanesque style, from bricks especially made by the Butterley Company and similar, but not identical to, those used in the construction of the surrounding houses.

The church forms part of the benefice of Ollerton with Boughton, together with two other churches, St Giles in Ollerton Village, and St Matthew's in Boughton.

Many of the parishioners were mineworkers and their families and this continued to be the case until the final closure of Ollerton pit in 1994. Members of the church have been very active in maintaining links with the mining community as is shown by the installation of 'The Miner's Window' above the west entrance to the church, and the display in the nave of the miners' commemorative volume.

Particular thanks to Robert Murray for research on this entry

This entry is not yet complete, but further research is currently being carried out and a full entry will appear in due course.