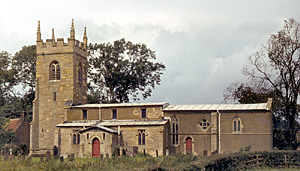 Barnby-in-the-Willows
All Saints
Newark Archdeaconry
Newark and Southwell Deanery
Introduction
A church and priest are recorded here in Domesday along with a half bovate of land. By 1291 the taxable value is recorded as £10. In 1637 the sum of £20 was expended on church repairs, though churchwardens' returns reveal little detail of the state of the building for the whole of the 17th century, although between 1635 and 1639 a total of £49 10s was spent on repairs. Unusually there appears to have been no wholesale restoration in the 19th century.
The building comprises nave with two aisles, a late 15th century north porch with a contemporary door, chancel, and west tower. The nave aisle arcades date from the 13th century and have alternately circular and octagonal piers. The tower is Perpendicular in style, mid-15th century and is ashlar built. The chancel is puzzling as the window tracery has strange geometrical forms within otherwise normal gothic architecture; it is most likely a fanciful 17th century invention, but merits further investigation. One of these windows appears to have been an early 'low-side' window, now incorporated into a later light.
There are some fine early pews, and monuments to the Sharpe family including one to George Sharpe who died in 1686, aged 26, and who was a student of the Middle Temple. There are six bells, four recast in 1932, one new bell of the same date, and a bell to commemorate George V cast in 1935. One of the recast bells was formerly by Abraham Rudhall of Gloucester and was dated 1713.
Particular thanks to Hillery Harrison for research on this entry and to Geoff Buxton for the photographs.